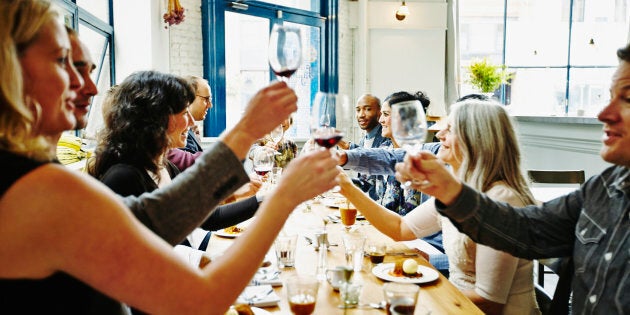 From dining with some of the most spectacular views in Australia as your backdrop to (literally) smashing a seafood feast, these new eateries cater to those who love dining with a twist -- and the chance to show off their discoveries to friends and family.
1
. For Catching Up With Your Besties
"Brent Savage's food has always been cutting edge, if you want to impress then bring friends or business here," says Citi Dining Ambassador Gary Mehigan of the award-winning head chef at Sydney restaurant, Bentley Restaurant and Bar. "He loves to push the boundaries, but dishes are delicious, I also love the "Raw & Cured" section on the menu." The restaurant recently relocated to Sydney's Raddisson Blu, with the space designed by architects Pascal Gomes-McNabb -- a chic black, white and grey interior with striking abstract ceiling installations and light fixtures -- so it's as impressive on the eye as it is on the palate. Alternatively, grab your best mates and roll up your sleeves; because Brisbane has its first American-style crab shack. St James Crabhouse & Kitchen opened at picturesque Kangaroo Point in April, and Brisbane Food Lovers bloggers Aliyah Ravat and Charlotte Perrigo are fans of the local and international seafood fare served up by Anton Agnal, former chef at Singapore's Fullerton Hotel, and New Zealand seafood specialist Reagan Freeman. "Your friends are sure to be impressed and they won't have to spend hours thinking of an outfit," Ravat and Perrigo say.
2. For Hosting An Engagement Party
Take a deck with views of Sydney's middle harbour and a menu featuring regional recipes from one of the most romantic nations on the planet, Italy, and you already have two reasons Ormeggio at the Spit is perfect for a group gathering celebrating love -- and Mehigan couldn't agree more. "Alesandro Pavoni plays with Italian heritage but the food is stand out modern and just damn impressive," Mehigan says. "Imagine an engagement or celebration on the deck overlooking the myriad of bobbing boats and the sun setting over the valley estuary. Gorgeous!" For a city based experience, Sydney's newly opened and hotly anticipated French eatery, Hubert is also hard to beat. With top-name chef Dan Pepperell at the helm, the menu -- which has food critics raving -- features new takes on classic French bistro dishes such as duck a l'orange and chicken fricassee. 2HungryGuys' blogger Luke Calopedoa said Hubert was well worth the hype. "With two menus and two bars, it's the perfect destination," he said. "Once you step through the door, be prepared for the theatrics." And for lovers who want to celebrate with a night out for two, food and wine commentator and host of Cravings radio show Pete Dillon says that Entrecote in Melbourne is a great spot."This is the best place for a date with a meat lover. It's a lovely atmosphere with quiet corners for gazing into each others eyes," Dillon said. Cute!
3. For Entertaining Friends From Out Of Town
If you're a Sydney-sider with friends visiting from interstate or overseas, you're spoilt for choice when it comes to restaurants with a view of the famous Harbour Bridge. But there's one that's hard to beat, says Mehigan. "It's fair to say (this is) the best spot in Australia. Bennelong, calls The Sydney Opera House its home," says Mehigan of the eatery's iconic Sydney Harbour location. "There's a restaurant serving brilliant Australian takes on Roast Lamb, Pavlova and The Lamington to name a few, a bar and a casual spot called 'Cured & Cultured' -- a kind of raw bar where things are a little more casual to hang and look cool!" Further south, chef Andrew McConnell's Marion is already a Melbourne institution worth introducing out-of-towners to, despite only opening last year, says Gram Magazine's Lauren Bruce."The food is always exciting; (there's) snacks and share plates that change daily -- think oysters, slow-cooked meats, cheese, charcuterie," she said.
4. For The Ultimate Birthday Party
The newly opened Melbourne's Garden State Hotel is a birthday party planner's dream come true. The massive, four-level meeting place was built on the old Rosati site, right in the heart of dining hub Flinders Lane. As it can host upwards of 800 people, no one has to miss out on an invite to your birthday shindig. Enjoy a party starter at the well-stocked, traditional public bar or super cool indoor/outdoor multi-level beer garden oasis built around large ficus trees, before moving on to the New York-style Garden Grill, and finishing up with a delicious cocktail from the basement saloon. And if you don't have 800 friends on speed dial, there's even an exclusive dining room for more intimate gatherings. Dillon also says the Garden State Hotel is helmed by impressive talent. "They have chosen some incredible stars of the industry to deliver their dreams and ideas; Executive chef Ash Hicks (Circa), sommelier Marcus Radny (Vue de Monde) and General Manager Dan Viney -- each of these guys are stars in their own right."
5. For A Night Out With Work Buddies
If you're looking to impress a small group of favourite colleagues with your ethics as well as your credentials as a foodie, The Foraging Quail in New Farm, Brisbane, has both vegetarian and carnivorous banquet menus as well as a full menu of dishes -- from chef Minh Le -- that are designed for sharing and crafted with a focus on organic, locally sourced, seasonal ingredients. Share dishes include Sticky Pork Belly and Chinese Barbeque Smoked Duck, while the wine list was awarded a star in the World of Fine Wine's Best Wine List 2016. For a bigger, more casual, gathering, think Reef Seafood and Sushi in Newstead, Brisbane is all about locally sourced Australian and New Zealand seafood. The menu -- think sushi, grilled Queensland swordfish and 5 different varieties of Oysters -- was created by head chef Shigeki Uno and has enough shareable options to make bulk ordering a breeze. "The open layout of the restaurant makes it a perfect location to spend a relaxed evening with your work BFFS," said Brisbane food blogger, Anita Siek. Moving out west, The Globe in Perth offers colonial charm meets unique contemporary dining. A multi-venue space, The Globe features three areas -- the tiered terrace bar, lounge eatery and laneway -- one is bound to suit your work function needs. Perth food blogger Inex Palit said each area features its own menu created by executive chef Graham Arthur (E Cucina, Balthazar) and head chef Alexandra Haynes; think crab eclair starters, followed by pork belly with apple, cabbage slaw and chilli jam.
Dinners are meant to be celebrated, so why not try one of Citi Dining Ambassador Gary Mehigan's top picks and next time you're dining out, make it extra special with a free bottle of wine thanks to the Citibank Dining Program. Live more with Citi