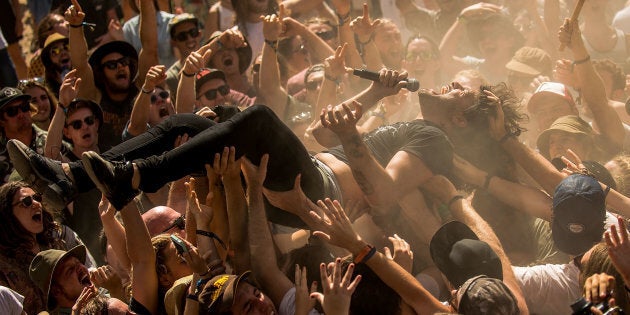 At least 19 people have been rushed to hospital with serious injuries after a stampede at Falls Festival in Victoria.
Police said they responded to the "crush incident" involving a crowd of attendees at the Lorne music festival on Friday night.
The dangerous incident occurred when music fans at the front of a crowd were leaving a performance about 9.50pm and was triggered when a number of patrons lost their footing, police said in a statement on Saturday morning.
No one sustained life-threatening injuries but 19 people were taken to hospital with serious injuries, according to police.
Medical treatment was provided on site to others with injuries. The ABC reports that paramedics treated at least 60 people at the festival.
There have been reports of chaotic scenes with people knocked unconscious, shoes torn off and mobile phones crushed in the melee.
According to Fairfax Media, injuries included possible spinal problems, head and facial injuries, fractures, lacerations and bruises.
Organisers said the incident happened after a set by Aussie rock band DMA's.
"There has been an incident, just before 11pm tonight at the Lorne leg involving a crowd exit after the DMA's set in the Grand Theatre en route to watch London Grammar in the Arena," organisers said on Facebook.
"Medical staff were immediately on hand to assist all affected patrons. Up to 50 incidents of varying degrees were attended to, no critical injuries have been recorded.
"Entertainment has been suspended in the Grand Theatre for the rest of the evening, normal programming will resume tomorrow."