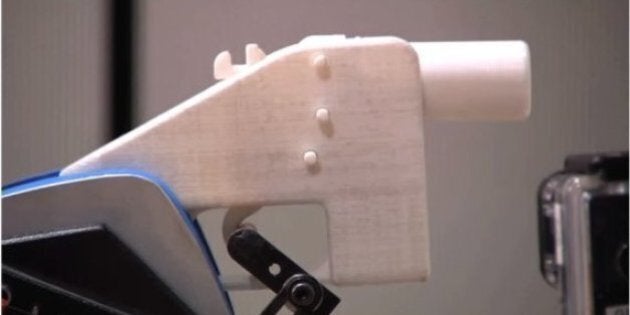 Queensland Police have uncovered a loaded 3D-printed handgun in a raid on an alleged methamphetamine lab near the Gold Coast.
Police descended on an address at Mudgeeraba, about 20 minutes south of Surfers Paradise in the Gold Coast hinterland, on Thursday morning. Officers allegedly found a sophisticated, inactive laboratory they say was used to manufacture ice.
Uncovered during the raid were drugs, laboratory equipment and a safe cemented into the ground in the surrounding bushland, but of most interest was a loaded, allegedly 3D-printed handgun.
"We have a printed 3D-handgun that is actually loaded," said Detective Inspector Brendan Smith.
"And then, throughout the bushland we now have discovered about 10 different hidey holes with different bits of lab equipment and other paraphernalia and what looks like chemicals.
"We've got hollowed out tree logs, we've got PVC pipes that are covered in bark so they are hidden out there in the bushland.
"There's CCTV footage so you can't approach the house without being seen."
"[The new law] makes sense, if you believe in the deterrent effect of law. This stuff shouldn't be available to everybody, but maybe it already has. This is like closing the gate after the horse has bolted," said Australian National University professor of criminology Roderic Broadhurst.
"I've not heard of any crimes with 3D printed weapons, but it wouldn't surprise me... Technology changes fast and criminals are opportunists and early adapters. Crime follows opportunity so it makes a lot of sense to put measures into place sooner rather than later.
"This should be an extension of existing firearm laws on manufacturing weapons. It is absolutely incumbent on [governments and law enforcement] to move swiftly, to provide some sort of legal mechanisms to deal with this."
Broadhurst warned recent huge leaps forward in the quality -- and reductions in price -- of 3D printing technology had made such laws vital.
"3D printers have become less costly and much more capable. In this university, about 12 years ago we bought a very sophisticated printer for $750,000. The same quality today would be about $2500, second-hand, and would fit on your desk," Broadhurst said.
"It is the scaling up of capacity and drop in price, combined with readily available software -- that's what we're dealing with."