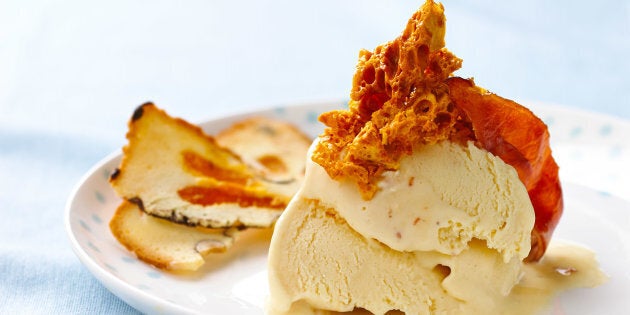 There's nothing like the smell of bacon wafting through the house. The smokiness, the saltiness, the intense sizzle... Seriously, someone needs to put that aroma in a candle.
Bacon is an incredibly versatile ingredient and more recently, people have been adding it to every sweet and savoury dish they possibly can. Doughnuts, chocolate, jam, pastries, peanut butter, milkshakes and even cocktails.
Because everyone likes bacon, we rounded up five classic bacon recipes for you to enjoy -- from candied bacon ice cream to bacon and chorizo pasta.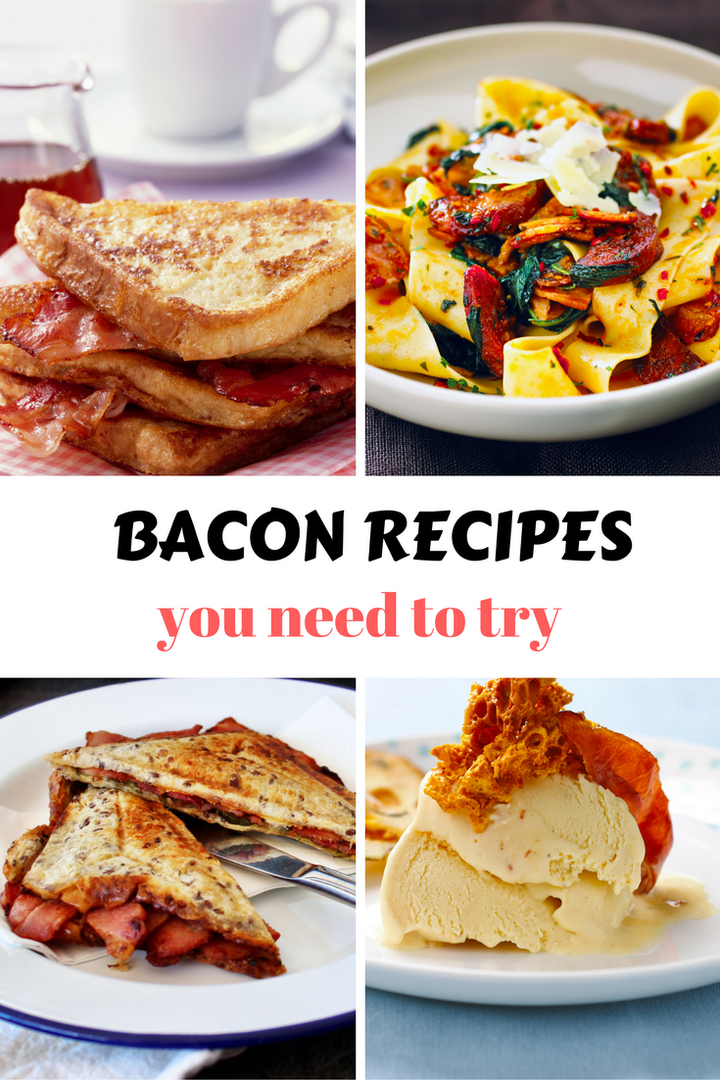 1. Banana, chilli and bacon jaffle
Cook and preperation time: 15 minutes.
INGREDIENTS
4 slices of sourdough
100g salted butter
1 large ripe banana, mashed to a puree
10 rashers of streaky bacon
Small jar of pickled Jalapenos
METHOD
1. In a large dry frying pan over a high heat, cook the bacon on both sides until crisp. Remove the bacon from the pan and set aside. Remove the pan from the heat and discard the majority of the oil that has rendered from the bacon.
2. Butter all slices of bread on both sides.
3. To build the jaffle, add a small amount of banana puree to each slice of bread and spread thinly. Place five rashers of bacon on two slices of the bread, add a single layer of jalapenos and top with the remaining bread.
4. Return the pan to a high heat and after 60 seconds place the sandwiches into the pan. Place another frying pan on top of the sandwiches to act as a weight. After 3-5 minutes, turn the sandwiches and cook for a further 2-3 minutes on the other side, again with the additional frying on top (use a jaffle or sandwich press if you have one).
5. Remove the sandwiches from the pan and allow them to cool slightly before devouring.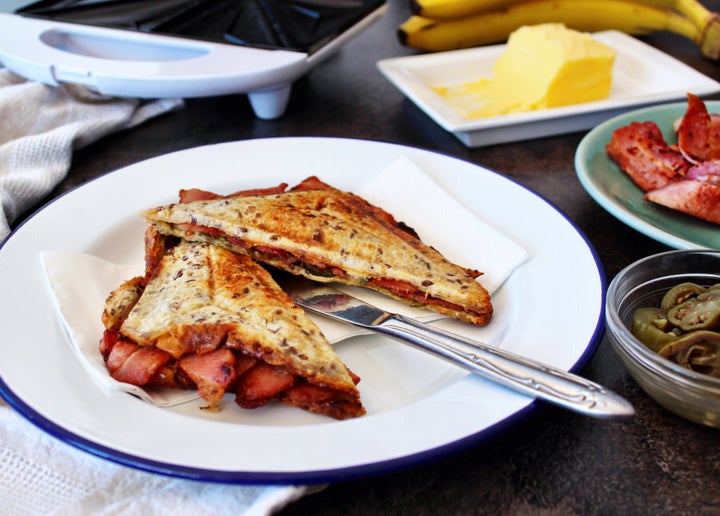 2. Candied bacon ice cream
Preparation time: 15 minutes plus cooling time.
Cooking time: 20 minutes plus additional freeze time.
INGREDIENTS
2 smoked Australian bacon rashers
600ml cream
1 cup milk
100g caster sugar
4 egg yolks
pinch salt
¼ teaspoon smoked paprika
4 smoked Australian bacon rashers, grilled
1 cup brown sugar
½ cup maple syrup
Honeycomb to serve
METHOD
1. Preheat oven to 160°C.
2. Cut the rashers of smoked bacon in half and place bacon in a deep heavy based saucepan.
3.Whisk together the cream, milk and caster sugar and pour over the bacon.
4. Heat the saucepan over a low heat, being careful not to boil the milk, for approximately five minutes.
5. Allow the mixture to cool slightly and remove the bacon pieces.
6. Remove half a cup of the cream mixture and whisk together with the egg yolks. Add salt and paprika.
7. Return the mixture to the saucepan and heat stirring constantly until mixture has thickened and coats the back of the spoon.
8. Remove the custard from the saucepan and cool in a bowl. Return the bacon to the bowl and cover with a piece of baking paper to prevent a skin forming. Cool in the refrigerator 20 minutes. While custard is cooling, prepare the candied bacon.
9. Place the grilled bacon on a tray lined with baking paper and pour the combined sugar and maple syrup. Coat the bacon well with the mixture.
10. Place the tray in the pre-heated oven until bacon is caramelised, this should take approximately 15 minutes. Remove and place bacon on a wire rack to cool.
11. Remove the custard from the refrigerator and remove the bacon pieces and discard. Turn ice cream churn on, slowly pour the ice cream into the ice cream machine. Finely chop two of the candied bacon rashers into very small pieces and add the bacon to the ice cream and churn for 20 minutes.
12. Remove the ice cream from the churn and place in an airtight container freeze for 12 hours prior to serving.
13. Serve scoops of bacon ice cream with a shard of candied bacon and top with chopped honeycomb.
Notes: Freeze the bowl of your ice cream churn 12-24 hours prior to use for best results.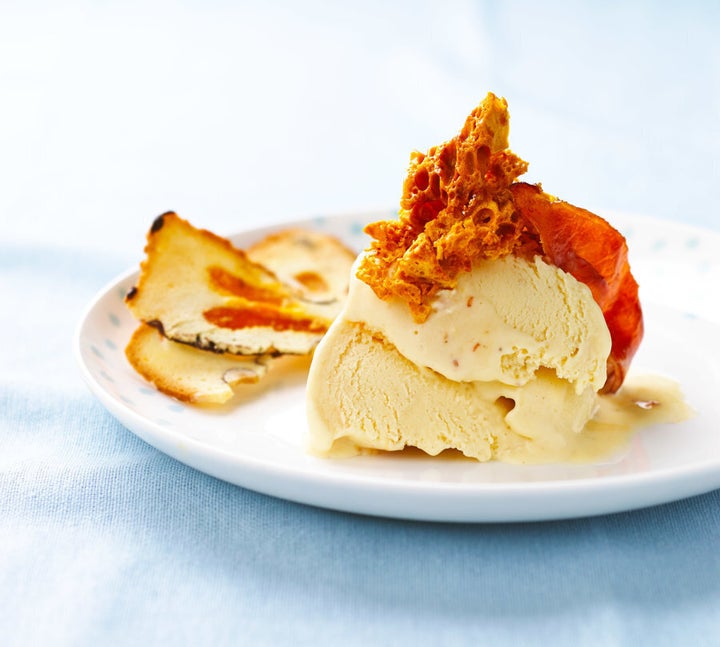 3. Bacon and chorizo pappardelle
Preparation time: 15 minutes.
Cooking time: 15 minutes.
INGREDIENTS
200g Australian streaky bacon, thinly sliced
200g spicy chorizo, sliced diagonally
1 tablespoon olive oil
2 cloves garlic, finely chopped
1 long red chilli, finely chopped
100g baby spinach leaves
½ cup continental parsley leaves, chopped
1 tablespoon tomato paste
4 tablespoons olive oil
400g pappardelle pasta, cooked and drained
4 tablespoons parmesan cheese, grated
Cracked black pepper to taste
METHOD
1. Heat one tablespoon of olive oil in a large deep frying pan over a medium high heat and sauté the bacon and chorizo until well brown. Remove from pan and set aside.
2. Return the frying pan to the stove over medium heat and sauté garlic, chilli and spinach for two minutes.
3. Combine the remaining four tablespoons of olive oil and tomato paste together with the parsley leaves and add them to the sautéed garlic and chilli.
4. Return the bacon and chorizo to the pan and sauté for a further two minutes.
5. Add the cooked pappardelle to the pan and toss well to coat pasta. Season with a little salt if required.
6. Serve pasta garnished with parmesan cheese and cracked black pepper.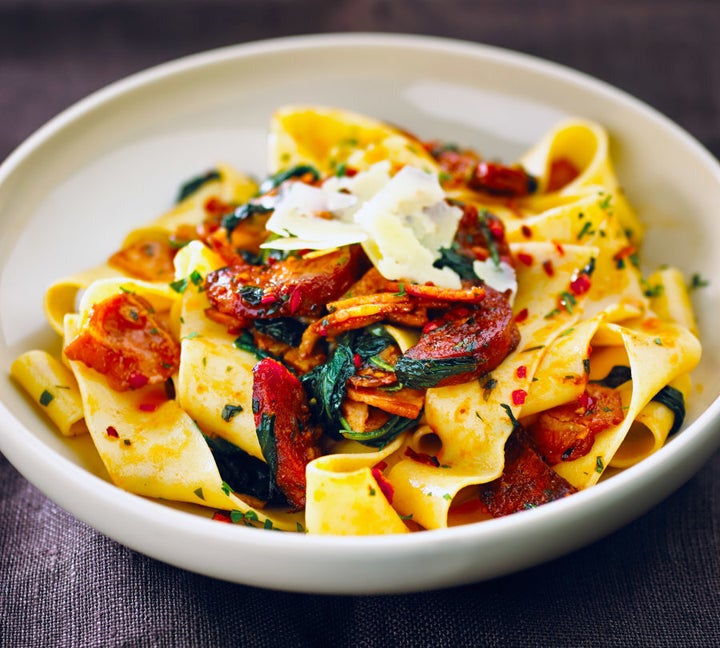 4. French toast with bacon and maple syrup
Preparation time: 5 minutes.
Cooking time: 15 minutes.
INGREDIENTS
8 rashers Australian middle bacon, grilled until crisp
8 thick slices of day-old bread (brioche or sourdough)
6 eggs
1 cup cream
½ cup milk
1 teaspoon vanilla extract
Pinch of nutmeg
Pinch of cinnamon
Pinch of sea salt
60g butter
2 tablespoons oil
Pure maple syrup, to serve
METHOD
1. Pre-heat oven to 150°C.
2. Grill bacon, turning frequently until crisp and golden. Keep warm in the pre-heated oven until required.
3. Whisk the egg, cream, milk, vanilla, spices and salt together until well combined.
4. Place the bread into a large shallow dish and pour over the egg mixture. Allow mixture to soak for 2-3 minutes.
5. Heat half the butter and oil in a non stick pan over medium heat for 2-3 minutes.
6. Using an egg slide carefully place the bread into the frying cooking two slices at a time. Cook for 3-4 minutes on each side until golden.
7. Place the cooked French toast on a wire rack over a baking tray in the oven to keep warm whilst cooking the remaining toast.
8. Serve one or two slices of French toast on each plate, top with crisp rashers of Australian bacon and drizzle with maple syrup just prior to serving.
Notes: if you like your French toast savoury replace the cinnamon and nutmeg with chives and smoked paprika and a little pepper.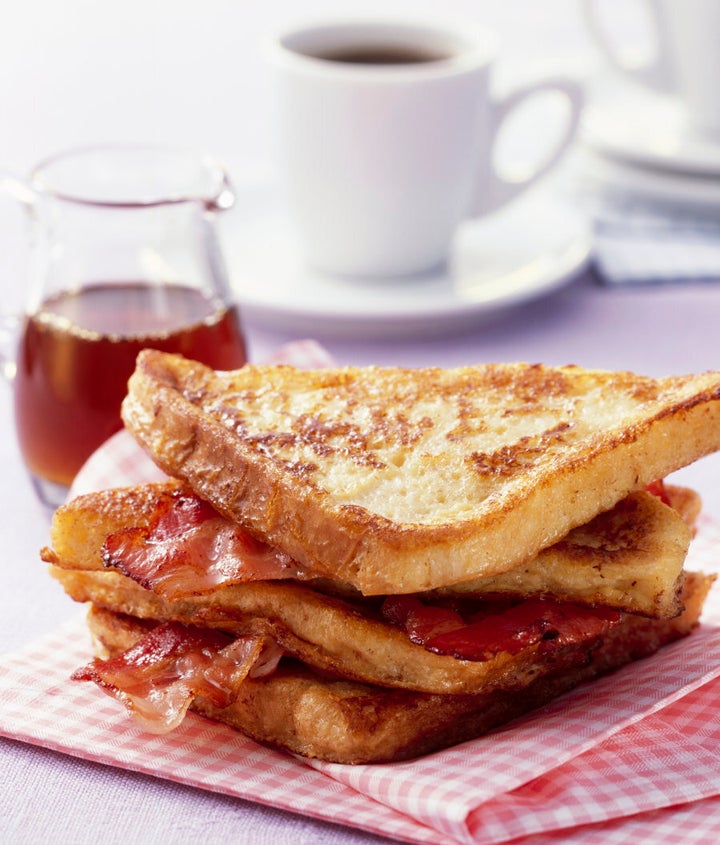 5. Cafe style bacon and egg roll with roasted tomato and capsicum relish
Preparation time: 10 minutes.
Cooking time: 40 minutes.
INGREDIENTS
4-6 soft damper rolls, lightly toasted
10-12 rashers Australian bacon, grilled
4-6 eggs (poached or fried)
4-6 slices Swiss cheese, thinly sliced
50g baby salad leaves
½ cup quality mayonnaise
1kg small ripe tomatoes, halved
2 tablespoons olive oil
3 red capsicum, diced
Salt and pepper
1 onion, finely chopped
½ cup brown sugar
¼ cup balsamic vinegar
1 teaspoon seeded mustard
METHOD
1. Pre-heat oven to 180°C.
2. Prepare relish ahead of time. Place tomatoes, oil, capsicum, salt and pepper in a large bowl and toss well to coat with oil.
3. Place tomatoes and capsicum into an oven proof dish and roast vegetables at 180°C for 30-40 minutes. Remove and cool slightly.
4. In a medium saucepan sauté the onion with a little oil, then stir in the brown sugar, balsamic vinegar and seeded mustard. Simmer for 15 minutes.
5. Add the tomatoes and capsicum to the saucepan and simmer for a further 20 minutes, stirring frequently. Cool and use as required.
6. Spread the toasted damper roll top and bottom with the mayonnaise. Place a few salad leaves on the base, top with a slice of cheese, an egg, 2-3 rashers of bacon, and finally a dollop of relish.
7. Place the lid of the roll on top and serve wrapped with grease proof paper.
Notes: relish is also delicious if balsamic vinegar and seeded mustard is replaced with barbecue sauce prior to simmering.