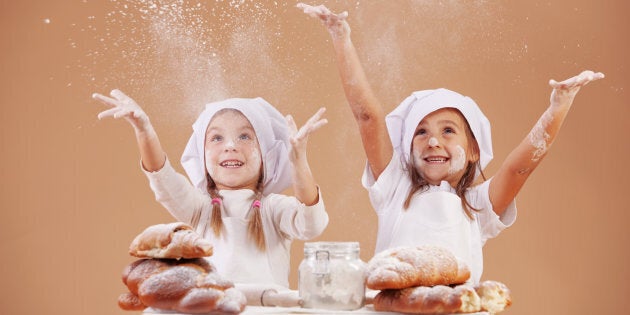 School holidays during winter can be a bit tricky. The beach is out of the question (unless the whole family has wetsuits, which isn't a bad idea, actually) and there's only so many times you can watch the latest Pixar movie at the cinemas.
Cooking with the kids is a great way to keep them occupied, have fun and learn about cooking and food along the way. It may get messy, but the delicious food you have at the end -- and the big smiles -- makes it totally worth it.
"Cooking with kids should be all about fun," Varela told The Huffington Post Australia. "It's a great way to engage in conversation with children and teach them about nutrition and produce.
Be prepared to get messy, but don't be afraid to try new things with the kids.
"I often buy seasonal produce with my kids and we then talk about different ways we can use the produce. Strawberries, for example -- there are so many things you can do to alter the taste. You can marinate them or coat them in icing sugar. This helps the kids understand the produce and appreciate its complexity."
Cooking with kids is messy, but it can actually encourage them to enjoy the foods they may usually be wary of (we're looking at you, zucchini).
"Be prepared to get messy, but don't be afraid to try new things with the kids," Varela said. "I have found that when they help create a dish, they enjoy eating it more -- even vegetables."
A few of your fellow friends could even take turns hosting a kids' cooking class, so you can have a few hours to relax before the next viewing of Finding Dory.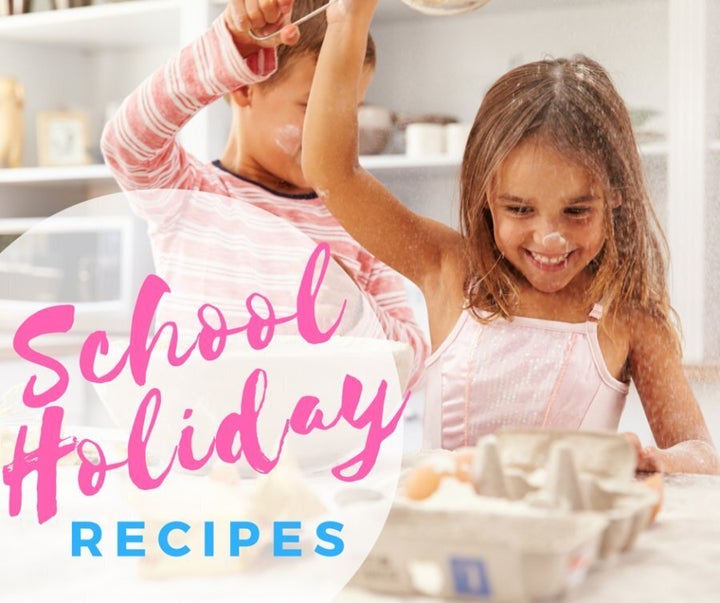 1. Homemade musk sticks
6 gelatine leaves
2 ½ tablespoons glucose
6 cups sifted icing sugar
1 teaspoon musk flavouring
3-4 drops red food colouring
1. Place 100ml cold water and glucose in a pot and simmer just until the gelatine has dissolved.
2. Add the syrup to an electric mixer and mix with a paddle until it resembles marshmallow.
3. Add the icing sugar and beat for a further two minutes. Add musk flavouring and colouring, and mix until combined.
4. Transfer the mixture to piping bags with small star nozzles. Let the kids pipe their own shapes (traditionally these would be 7cm long sticks). Leave them out overnight to dry.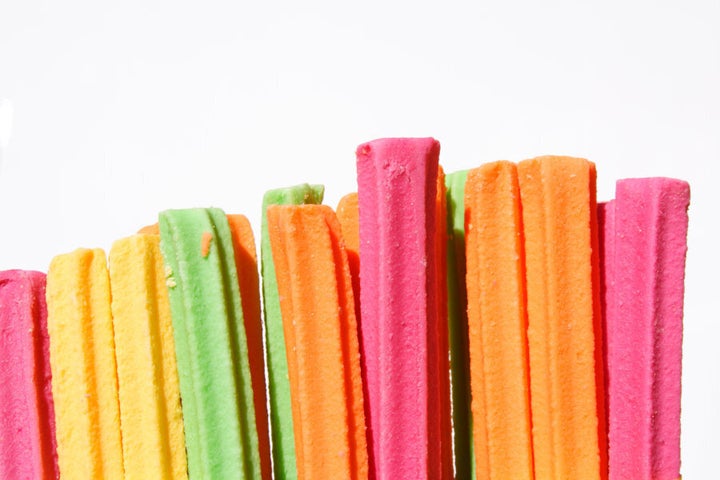 2. Meatballs with penne
1kg mince (I use a 50/50 mix of veal and pork -- however, you could use chicken or beef)
1 clove of garlic crushed
1 carrot, peeled and grated
1 zucchini grated
1 cup fresh white breadcrumbs
1 x 400g can good quality crushed tomatoes
1 onion grated
½ litre chicken stock
100g Grana Padano cheese
1. For the tomato sauce, sauté onion with a little extra virgin olive oil. Add crushed tomatoes, cook out for 10 minutes and season with sea salt and white pepper.
2. For the meatballs, mix the mince, garlic, carrot, zucchini and breadcrumbs until well combined. Season with salt and pepper.
3. Take tablespoons of the mixture and let the kids roll them into balls. Place on a tray with greaseproof paper and bake the meatballs for 17 minutes at 180°C.
5. Serve with cooked penne, meatballs and spoon over tomato sauce. Finish with shaved parmesan.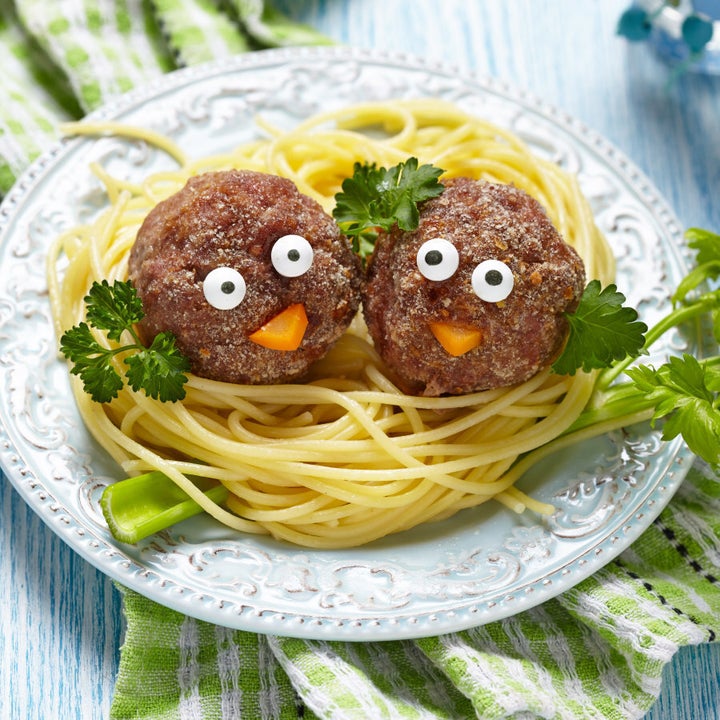 3. White chocolate and raspberry muffins
1 ⅔ cups self-raising flour
1 egg, beaten
1 cup crème fraiche
100g chopped white chocolate
½ cup raspberries
1 cup caster sugar
100g melted butter
1. Preheat oven to 180°C. In a large mixing bowl, combine the flour and the sugar.
2. In a separate bowl, combine crème fraiche, beaten egg and melted butter.
3. Fold the wet ingredients into the dry and add your raspberries and white chocolate -- be careful not to over mix.
4. Place mixture into a greaseproof lined muffin pan and bake in a fan forced oven for 25-30 minutes.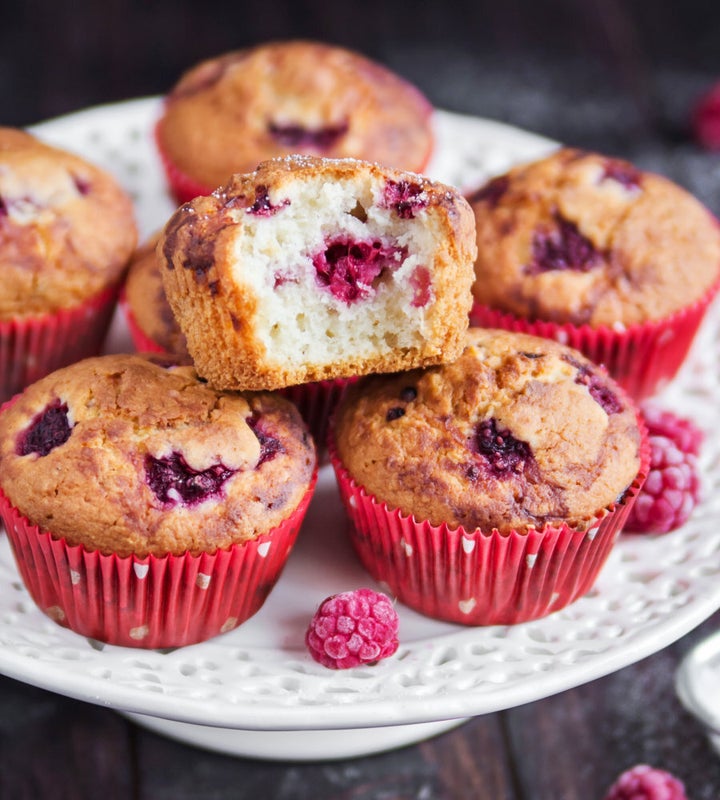 4. Steamed chicken dumplings
500g chicken breast mince
1 knob grated ginger
2 cloves of minced garlic
100g softened butter
Soy sauce, to taste
1 packet of gow gee wrappers
1. Combine the dumpling filling ingredients together in a bowl and season with soy sauce.
2. Let the kids spoon a teaspoon full of the mixture into the centre of the gow gees. Dip your finger into water and run it around the wrapper. Fold into neat little parcels.
3. Place into a greaseproof lined bamboo steamer and steam over a wok for eight minutes.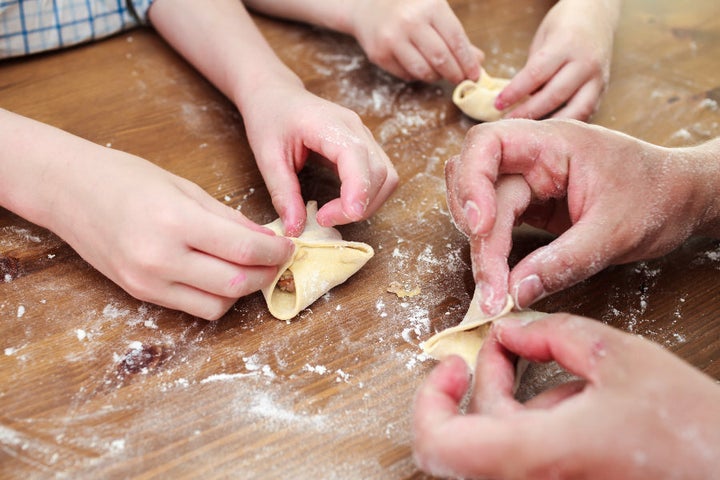 5. Shortbread with strawberries
2 cups plain flour
2 tbsp rice flour
½ cup caster sugar
250g butter
1 punnet of strawberries
Crème fraiche, to serve
Icing sugar, to serve
1. Preheat oven to 160°C. Sift flours together into a large bowl. Add sugar and rub in butter using your hands.
2. Roll out mixture on a floured surface to 1.5cm thickness. Let the kids cut the cookie shapes with cookie cutters.
3. Place on baking tray and bake for 25 minutes.
3. Serve the shortbread with cut strawberries, crème fraiche and a dusting of icing sugar.