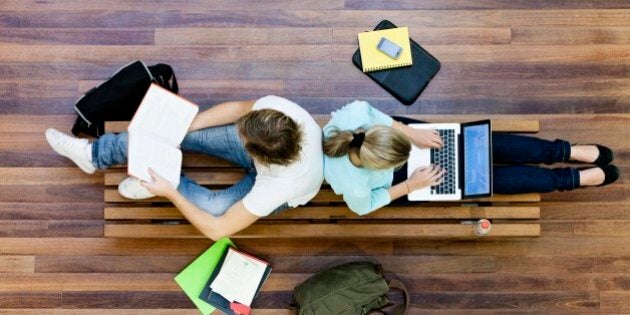 Ah, the life of a student. American movies often portray it as a lifestyle of parties, endless summers and the chance to throw a black hat up in the air. But it is, in fact, not for the faint-hearted.
Embarking on your professional path is an important time of your life, and the choice to study can sometimes have negative consequences on your relationships.
Here are five issues that you might experience during your time as a student:
They say that time goes fast when you're having fun, but the same could be said for when you have an assignment due and you have literally only 24 hours to complete it. Being a student is not only leaning about an entirely new subject, it's also about learning a whole new set of life skills as you navigate your way through this season.
When you have to juggle study, work and a relationship, it can become difficult to give the right amount of attention each area of your life. Eventually, certain things will take priority by default and this can lead to the danger of not being able to give your partner the necessary time they need.
The trick here is to communicate to your significant other what your schedule is doing and the demands that are placed on you -- if they are up to speed about what is actually going on, then chances are they will be more understanding.
You must also find a balance between study and personal life. You could draw up a monthly schedule or engage professionals who specialise in essay writing or exam help to give you the extra time both you and your partner yearn for.
Student life usually comes with a tight budget, because let's face it, in between the piles of assignments, there really isn't a lot of time to work. Even if you study part time, chances are it's going to be hard to find a job that pays you twice as much for half the amount of time you work.
Financial pressures can place a lot of strain on a couple, so how do we navigate our way around this? My advice is to work smart, find a way to make a passive income, use the governmental avenues of financial help like HECS and try to cut back on daily spending.
3. Deadlines have to be met
When you know you have to make a certain deadline but there are so many other things that also have to be attended to, the real pressure and stress sets in. Chances are, you will have many moments of pressure and stress, which don't make you the most agreeable person to be around.
However, to prevent biting your partner's head off, or neglecting them during a stressful time, try to communicate to them what you are thinking and feeling and the weight you feel like you are under. It will take patience and understanding from them, so make sure you acknowledge what they do to help because right now they are probably giving a little more than they are getting back.
4. Expectations are increased
When you set out to achieve something (and you invest a lot of money and time to do it) there is instantaneously a certain amount of expectation attached to it. Most degrees take about three years, which is a lot of time to take if you are going to turn up with nothing at the end.
So, naturally, we or our partner starts to place these expectations on us to achieve certain marks, act a certain way or have a specific prospect at the end. It's not a nice feeling knowing you have to live up to a certain expectation, and it will only serve to add to the extra pressure you already have on your life and relationship. The best thing to do is communicate to each other what you both feel, expect and want to be at the end of it all.
5. New social obligations and friends are added
Uni life can sometimes equal uni parties. If you are studying part-time or by correspondence then perhaps this won't be such an issue, but usually when we are submerged in a new environment we start to socialise with the people that are around us. It's important to enjoy yourself and build friendships, but don't forget to include your partner and also prioritise one-on-one time with each other.
At the end of the day this is only for a few years, and just because we focus on one thing doesn't mean we have to lose sight of the big picture or the people who hold a big place in your heart.