For the three parents who traveled to Syria with 60 Minutes, two were there to convince their son to come home. The other was there to meet the men and women who her son spent his final hours with.
On the Channel Nine show on Sunday night, journalist Tara Brown accompanied Brisbane parents Scott and Julia Dyball to see their 23-year-old son Ashley, who was fighting against ISIS with Kurdish forces in Syria.
With them was Michelle Harding, whose son died while working in the same troupe as Ashley.
These are the four lines that tell the story.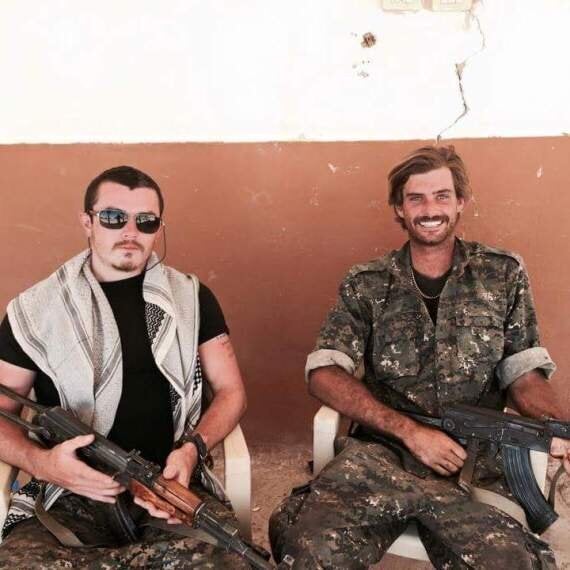 Ashley Dyball and Reece Harding, who has since died. Picture: Fairfax Media Archive / Supplied
"I don't want it to be a death sentence: that he can't come home; that he has to stay; that he doesn't have a choice," Dyball said.
Scott Dyball said he believed his son was doing good work.
"Anybody that's prepared to go in and dismantle [explosives] and booby traps, so women and children and families can move back into their villages together, in my books, is a hero.
"My son, he's a hero, he's getting families back together," Dyball said.
Michelle Harding said she learned more about her son's final days before he was killed by a landmine.
"When you lose someone, every single detail of their life becomes so precious. You want to see where he lived, you want to see who he was with, because you just need to know every single second that you've missed out on because you don't get any more. That's it," Harding said.
Ashley Dyball is fighting ISIS in Syria with Kurdish forces and does not intend on going home:
"A lot of guys will tell you, you can prevent what happens to you. Probably one of the things that's petrifying out here is you can't prevent what happens to a mate so we always look out for each other. We always protect each other," Dyball said.