Taylor Swift has had a big couple of days, from orchestrating a solar eclipse to tie-into the launch of her new single, the announcement of a new album and also the "death" of the old Taylor.
On Monday, Taylor launched the video for her single 'Look What You Made Me Do' during the 2017 MTV Music Video Awards and as heads around the world exploded, you may have missed a few details in the video. Here's what we could find from the obvious to the subtle shade.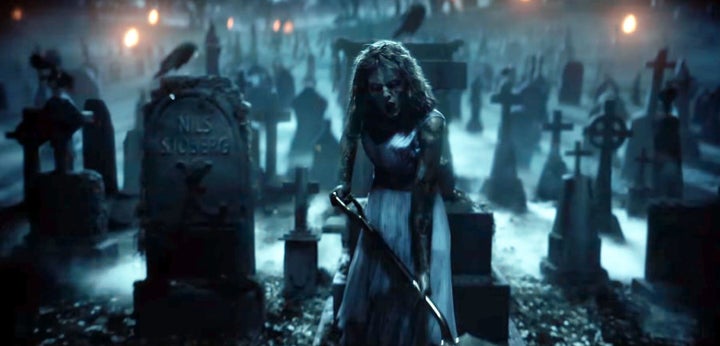 The single dollar in the bath.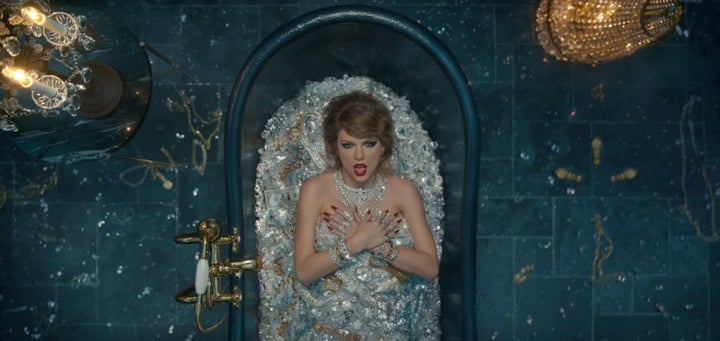 Taylor decides to take a quick dip in a bath full of jewelry which is terribly unhygenic but a great exfoliator probably. Among all those diamonds and gold is a singular dollar bill, which many believe is a reference to her recent court case. Earlier this month a jury ruled in favour of Taylor in a countersuit against former DJ David Mueller for assault and battery. Taylor was awarded the amount she sought, which was just a single dollar.
Some have alleged this might be a dig at Kim Kardashian and her traumatic robbery in Paris (there's a focus on Taylor's rings / Kim's diamond ring was stolen, Taylor mimics a gun with her fingers / Kim was held at gunpoint, etc.) but another theory is that she's confronting a "character" the media created for her. Last year Taylor performed an intimate acoustic set at the GRAMMY museum where she said the following:
"Every single article had these descriptions of my personality that were very different from the actual personality and my first reaction was like, that's a bummer, this isn't fun for me. But then my second reaction ended up being like, hey, that's actually a really interesting character they're writing about. 'She jetsets around the world collecting men and she can get any of them but she's so clingy that they leave and she cries and she gets another one in her web and she traps them and locks them in her mansion and she's crying in her marble bathtub surrounded by pearls.' So I was like, I could use this..."
This could also explain why later in the video she's seen spray painting "Reputation" on the side of a jet.
Brutus is just as cute as Caesar.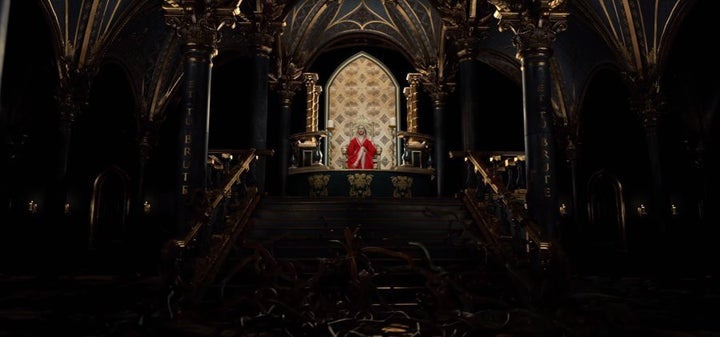 In Taylor's throne room the pillars and her golden throne all say "Et tu Brute", which originates from Shakespeare's historic drama 'Julius Caesar'. In her own historic drama, Taylor appears to be using the line, one that conveys surprise at betrayal of a close friend, to either shame those she feels turned against her, or embracing it.
Slytherin head girl realness.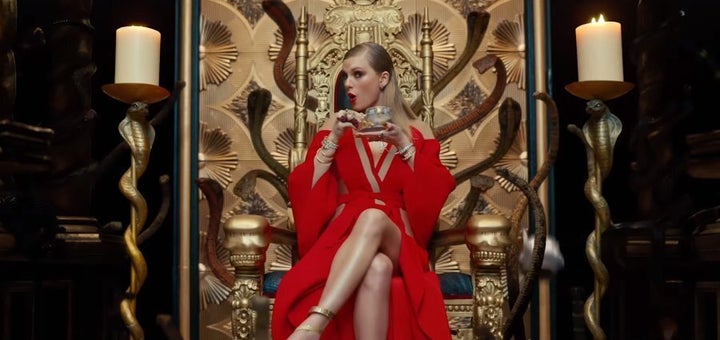 Ever since Taylor's feud with Kim Karashian and Kanye West she has been haunted by images of snakes. Taylor could barely go online without being haunted by snake jokes, photos and thousands of snake emojis. After 'Look What You Made Me Do' was released it looked like the tied had turned with Kim apparently blocking the snake emoji in her Instagram comments. Now it looks like Taylor is embracing her new snake queen aesthetic, as she dramatically ~sipped tea~ poured for her by her slithering minions.
I spy with my little eye a dig at a company called Spotify.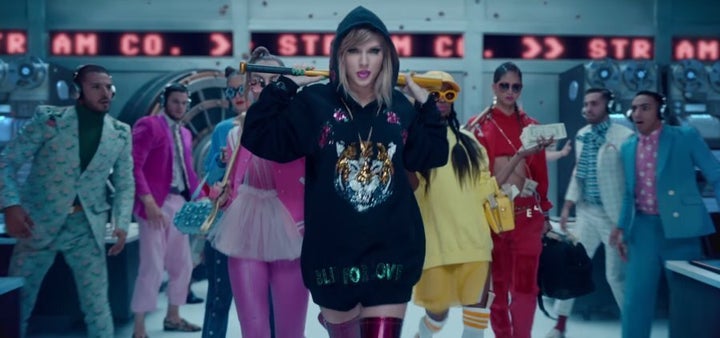 A big criticism Taylor faced back in 2014 was when she removed her music from streaming services worldwide. Seriously, it was hard times to be a casual Swiftie while also only ever using Spotify. What initially looks like a bank robbery scene in the 'Look What You Made Me Do' video takes on another meaning when you notice the scrolling banners read "Stream CO". Thankfully Taylor brought her music back to streaming in June.
Graduating with a bachelor's degree in white feminism.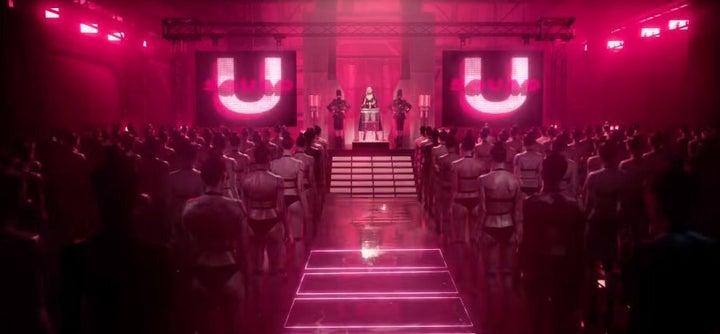 2016 was a totally different time for Taylor, she was in the public eye a lot more than her very quiet 2017 and part of that was cultivating a fun group of friends which became known as Taylor's "squad". The squad was a rotating roster of gorgeous, happy women like some kind of A-lister coven and it included the likes of Lorde, Karlie Kloss and Selena Gomez. The video plays on this to the effect of calling Taylor's dominatrix-esque, dystopian army of beautiful women in lingerie "Squad U".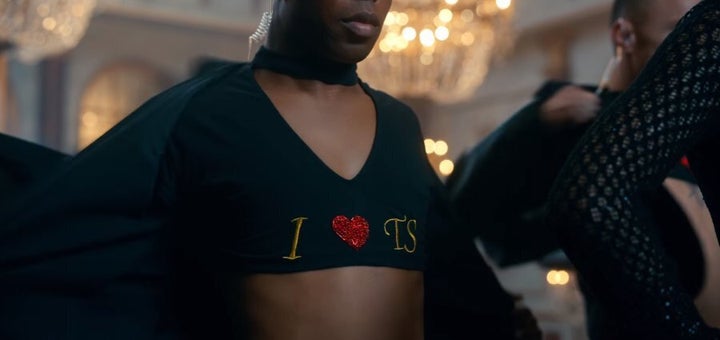 2016 was also the time of Swift's short-lived relationship with star Tom Hiddleston, one of the most confusing times in the timeline of Taylor's lovelife. Even long-time fans were convinced of the theory that it was all part of a practical joke or surprise music video. The most remarkable moment occurred during one of Taylor's squad-heavy 4th of July parties where Hiddleston was seen frollicking in the ocean wearing a "I <3 TS" tank top. Now in 'Look What You Made Me Do', Taylor snaps her fingers and her sycophants rip off their jackets to reveal exactly the same. Good news for anyone loving the design, she's also selling them on her website.
Rest in peace, old Taylors.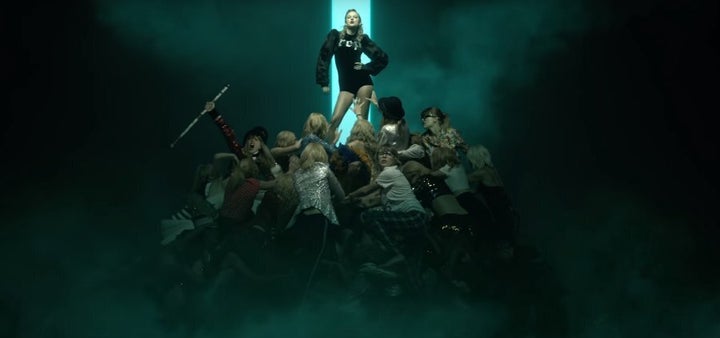 In case you missed the part where she literally crawled out of a grave, or when she told someone on the phone that "the old Taylor is dead", the old Taylor is dead. Surprise! A bulk of the video shows Taylor in outfits from various other tours, videos and appearances clambering to the top of a pile where new snakey Taylor reigns.
These old Taylors make another appearance at the end of the video in an epilogue which is packed with references to comments made about Taylor in the past including being "fake", "playing the victim", as well as referencing her now infamous line "I would very much like to be excluded from this narrative".