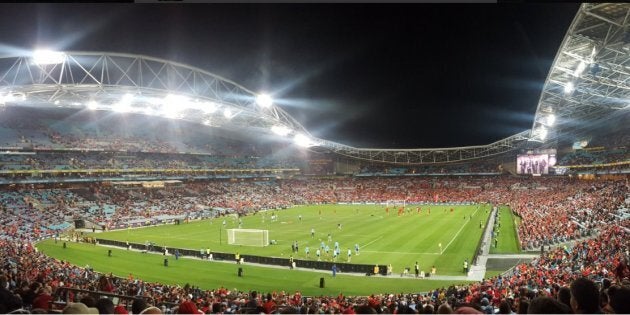 English Premier League (EPL) giants Liverpool FC flew all the way to Australia to play 2016-17 A-League champions Sydney FC at ANZ Stadium on Wednesday in a friendly season-bookend match between the two sides.
But it was the rendition of Liverpool's team anthem 'You'll Never Walk Alone' performed by the 72, 892 in attendance that you really need to see.
The Reds were last in Australia in 2015 when they overcame Brisbane Roar 2-1 at Suncorp Stadium and Adelaide United in South Australia and the intensity and passion of local fans seems to have been maintained.
And it seems Sydney was just as prepared to perform.
Liverpool legend Gerrard was brought out of retirement for the match on Wednesday, joining the side in his 505th appearance for the club alongside the likes of Brazilian star Firminio and English forward Daniel Sturridge.
Mere minutes later, an expertly crafted flick-pass from Firminio saw Alberto Moreno slot another ball past Sydney goalkeeper Danny Vukovic with ease, leaving the match at 2-0 within 20 minutes.
As a final note for the first half and to cap off the trifecta, Firminio also managed to put away one of his one off of a pass from Sturridge that saw an unlucky Sydney FC deflection to end the half -- and seal the match -- at 3-0.
ALSO ON HUFFPOST AUSTRALIA