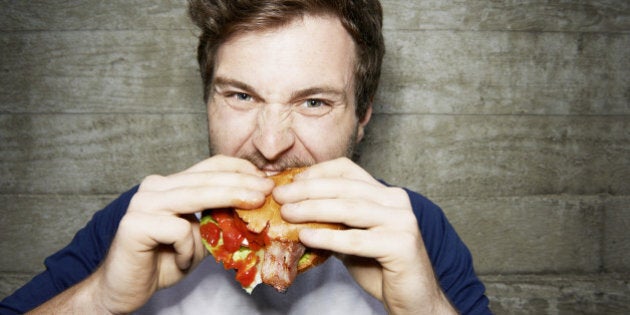 There's a new burger in town and, quite frankly, it's terrifying.
Coming in at 1290 calories, with 85 grams of fat, the Carl's Jr ½ Pound Thickburger El Diablo may be tasty -- but at what cost?
"Why. Why is something like this burger necessary?" accredited practising dietitian Chloe McLeod told The Huffington Post Australia.
"The one burger provides half to three-quarters of your daily energy requirements," McLeod said.
In terms of sodium, The ½ Pound Thickburger El Diablo burger contains 2790 milligrams, meaning you are eating more than your entire recommended daily sodium intake in one burger -- and you haven't even added the fries yet.
"The burger also only has four grams of fibre -- in Australia the recommended daily intake for fibre is 30 grams," McLeod said. "So that's only one-tenth of your fibre from one of your largest meals of the day."
"From my perspective, with all the benefits that come from a high-fibre diet, it's just not enough for one meal."
If you can feel your arteries clogging up already, hold on tight.
"The burger also contains more fat than you're supposed to have in your whole day and most of it is saturated fats -- which is the one you're supposed to have little of," McLeod told HuffPost Australia.
When compared to a McDonald's Big Mac -- which contains 493 calories, 859 milligrams of sodium and 26.9 grams of fat -- the Carl's Jr burger pales in comparison.
"I'm not here to be the food police, but unfortunately, the people who are eating this thing often don't have an understating of what they're actually eating," McLeod said.
"Especially when you look at different statistics about heart diseases and obesity, it's quite sad, really, because burgers like this are making it even harder for people who are already struggling."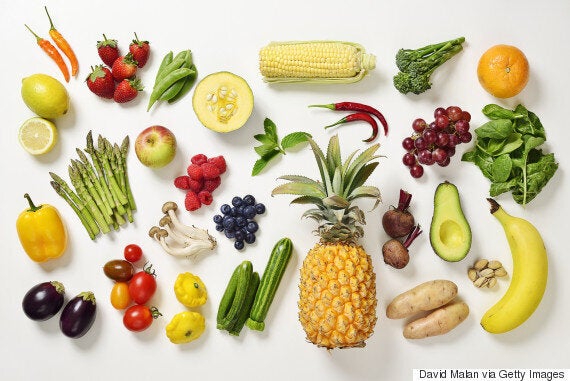 To give you an idea of the amount of food you can eat to equal the 1290 calories from this one burger, you could consume:
22 Weetbix
135 Smith's Potato Chips
5 kilograms of fresh strawberries
1 ½ kilograms of sweet potato
13 bananas
13 Caramello Koala bars
1 kilogram of natural Greek yogurt
13 slices of wholemeal bread
180 almonds
1 serving of Pad Thai
Here is part of a day's worth of nutritious meals which add up to roughly 1290 calories:
Breakfast -- ⅓ cup natural muesli, three tablespoons of Greek plain yogurt, one banana (293 calories)
Lunch/Dinner -- olive oil baked salmon fillet, one and ½ cups of broccoli and ½ cup mashed sweet potato (616 calories)
Snacks -- one milk coffee, 30 grams of almonds, one Granny Smith apple (367 calories)
"That's not a whole day but these meals will give 26 grams of fibre of the 30 grams required -- and you still have a meal or a snack left to eat," McLeod said.