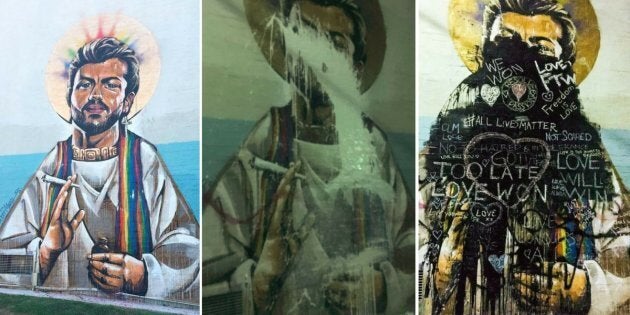 Sydney's inner-west community has hit back at an act of vandalism, writing messages such as "Too late. Love won," and "Not scared," after a mural depicting George Michael as a saint was defaced on Saturday.
The mural, which covers the side of a terrace in Erskineville, displays Michael in a priest-like outfit with a rainbow scarf -- and was painted just a few weeks after the singer's death last year.
The 23-year-old man who covered the mural with black paint has since been arrested by police for offences relating to graffiti. He is due to face Downing Centre Local Court on December 7.
In an act of solidarity with Michael and the LGBTQ community, locals rallied around the mural on Saturday night and covered the black paint with messages of their own.
One local, Trent Maher, told the ABC that his community was "very tolerant" despite the vandalism.
"It's a very divisive act but we're not going to put up with it," Maher said, "We're going to stay strong and we're going to make it better and we're going to make something about love rather than something about hate."
Other responses on the mural included the slogan "Love will win" and "No to hatred and intolerance".
The creator of the mural, Scott Marsh, hit back at the defacing on Instagram.
""Saint George' was painted almost a year ago as a tribute to the property owner's lost mate George Michael... It has become a shrine visited by George Michael fans from around Australia and the world, leaving flowers, cards and candles at the foot of the wall when they come to mourn and remember George.
"I feel terrible and I'm sorry to all the locals who have had to endure the intimidation and bullshit during the past night's attacks".
A petition has since been launched on change.org defending the mural's vandaliser.
"As Christian mothers, fathers, brothers and sisters we are deeply hurt and alarmed at the increasing public displays of hate, vilification and mocking of our Christian faith," the petition, which was started by Paul Bennett from Carlingford, reads.
"These murals are openly advocating for religious hatred, religious hostility and religious incitement against the Christian faith."
By Monday morning the petition had obtained over 16,000 signatures.
The Michael mural is the second vandalised artwork of Marsh's in almost as many days -- a wall painting that displayed former Prime Minister Tony Abbott with his hands in the pants of controversial Cardinal George Pell was ruined on Thursday.
The mural was less than a day old.