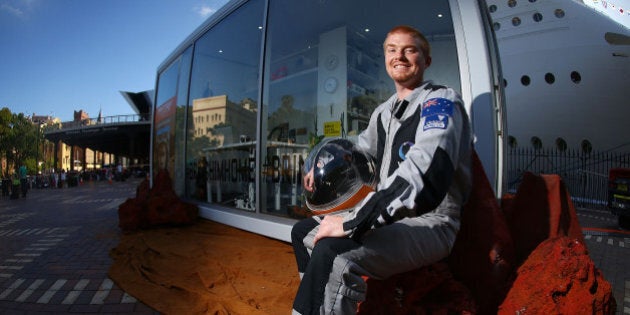 For many, it begins as a childhood dream. For one Aussie astronaut, it is becoming a reality.
Josh Richards is edging closer towards his goal of setting up a colony on Mars.
"I said to my folks one day that this is what I wanted to do when I grew up. And now I have the chance to do it," he told The Huffington Post Australia.
Richards entered into a glass space habitat this morning to begin a five-day mission that will see him living and surviving in a simulated 'martian' environment.
The solitary 'HAB' has been purpose-built to mimic the conditions battled by a stranded Matt Damon in sci-fi release, 'The Martian.'
"I work in the space industry here in Australia and we have been working for the last five months to shape a martian habitat that is realistic and feasible," said Richards.
"We've built something that is as close as we can get."
Over the next five days, onlookers can watch as Richards takes part in a series of survival challenges that have been designed by a team of experts and scientists.
But the mission has a greater end goal. Richards is in the running to be one of four people to voyage to Mars in 2026 and never come back.
The project, which attracted over 200,000 applicants, was launched by Mars One, a not-for-profit foundation that plans to establish permanent human life on Mars.
Richards has been selected as one of 100 astronauts to take the one-way ticket, and says the mission is ideal practice as numbers are whittled down to 24 candidates in September.
"For me, this is an experience inside of that. It will be a chance to prepare for what I will be embarking on -- isolated and on watch. It's good practice," he said.
Richards has had a diverse background in engineering, physics and comedy as well as having spent time in the military. He came across Mars One whilst researching for a stand-up show that was set to lament the state of the space industry.
"It was going to be an angry show on how humans were mad to have not at least tried to colonise Mars and here was a group saying, 'we're doing something about it!'"
And he is hopeful about his prospects for a life-changing future.
"To many people, it is a huge sacrifice. I see it differently. I have the chance to live, explore and die on a planet different to the one that I was born on to. That is an incredible opportunity."
The mission is set to welcome the release of the The Martian 3D on Blu-Ray and DVD.