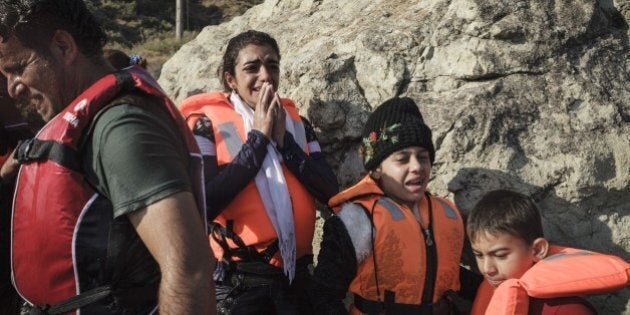 CANBERRA -- Prime Minister Tony Abbott has highlighted Australia's border protection policies as way to stop deaths at sea, such as the confronting drowning of tiny Syrian refugee boy Aylan Kurdi in large waves off the coast of Turkey.
Abbott said, like many people, he'd been affected by the image of the three-year-old lying lifeless on a beach.
"We saw yesterday on our screens a very sad and poignant image of children tragically, tragically dead at sea in illegal migration," he told ABC Goulburn Murray.
"I would say if you want to stop the deaths, you want to stop the drownings, you have got to stop the boats."
But, he claimed his government's policy of turning, or towing, back asylum seeker boats when safe to do has worked.
"Thankfully, we've stopped that in Australia, because we have stopped the illegal boats. We've said to the people smugglers 'your trade is closed down'," Abbott said.
The Opposition has recently adopted the Government's controversial policy of boat turn backs. Labor Leader Bill Shorten stands by his party's decision.
"We will turn back boats where it is safe to do so -- we will do that, because we don't want people making hazardous deadly journeys on unsafe vessels, " Shorten told reporters in Melbourne.
But, he said Australia should be more generous to Syrian refugees, saying he too has been affected by death of Aylan Kurdi.
"I'm a father. When I saw that photo, I felt sick. It is a heartbreaking image.
"(Labor) believes that over time we should take more refugees. We are seeing more people displaced by conflict around the world than at any time since the Second World War."
Foreign Minister Julie Bishop has indicated today that the Government is considering whether to increase the number of Syrian refugees that Australia accepts annually.
"This is a matter under consideration," Bishop told reporters in Perth.
Government frontbencher, Barnaby Joyce has called for more places for Syrian refugees.
Australia set aside at least 2200 places for Syrians in the capped 2014-15 humanitarian visa program. There is a further commitment to accept 1,500 Syrians a year, or 4500 Syrian refugees until 2018.
The position of Australia's political leaders on boat turn backs defies a blistering overnight New York Times editorial, which has attacked the Abbott Government's tough asylum seeker policies and urged European nations struggling with its unprecedented migration crisis not to follow Australia's lead.
"Some European officials may be tempted to adopt the hard-line approach Australia has used to stem a similar tide of migrants," the newspaper wrote.
"That would be unconscionable."
The U.S. newspaper described Australia's boat turnback policy as "ruthlessly effective", but "inhumane, of dubious legality and strikingly at odds with the country's tradition of welcoming people fleeing persecution and war".
The Times notes that European officials have travelled to Australia recently on fact-finding missions and that Abbott has urged European governments to follow his model.
But it warns European leaders, "it is inexcusable that some find themselves today in situations that are more hopeless and degrading than the ones that prompted them to flee".
The Prime Minister is adamant that Australia's policies save lives.
"As long as people think that if they can get here they can stay here, we will have the illegal trade," Abbott told the ABC.
"We will have the illegal smugglers in business and we will have the tragedies at sea.
"If you want to keep people safe you have got to stop illegal migration and that is what we have done."