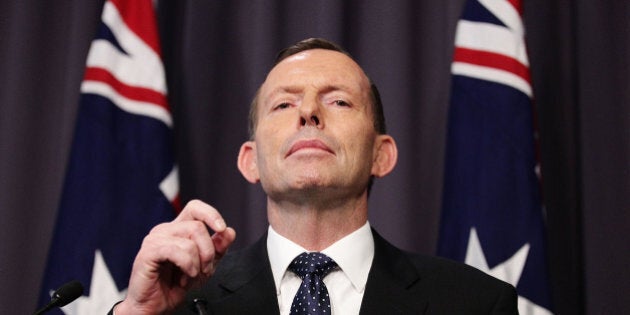 Prime Minister Tony Abbott has told a journalist she was "hyperventilating" over the botched announcement to have officials check people's visas in the street and that Border Force critics should be "ashamed of themselves".
Abbott told reporters today that he had not been aware of Operation Fortitude before a press release was issued on Friday.
The release stated the Australian Border Force would be "positioned at various locations around the CBD speaking with any individual we cross paths with," and warned Melburnians to "be aware of the conditions of your visa; if you commit visa fraud you should know it's only a matter of time before you're caught out."
The news was met by an immediate backlash, with journalists and social media questioning the move to place Border Force agents on city streets. A large protest formed outside Flinders Street Station, forcing the cancellation then relocation of a planned media conference.
Abbott tried to wave off the release as a "mistake" -- while simultaneously attacking journalists and critics of the move.
"Obviously it was a mistake. The press release was clumsy... it was over the top and wrong. We would never stop people randomly on the street demanding their visa details," he said.
"We don't do that sort of thing in Australia. It will never happen under this government."
In response to a female journalist asking a follow-up question on the timeline of the press statement's approval and release, he said, "there's a bit of hyperventilating going on over there."
As the news of the backdown circulated on Friday, the Twitter hashtag #BorderFarce spread far and wide. Abbott said anyone who described the Border Force as such "really should be a little bit ashamed of themselves."
He also gave a blunt response when another journalist asked whether he was personally aware of Operation Fortitude.
"Nope," he deadpanned, interrupting the journalist's question.
"To be honest, I couldn't believe what I was hearing," he said.
Former independent MP Tony Windsor slammed the news on ABC Radio's AM program on Saturday.
"I've got no doubt that some of these people in Abbott's government hope that something goes wrong domestically," he said.
"That they can taunt a Muslim into doing something so that they can say that we're the only ones that can protect you, the Labor party are too weak to protect you, vote for us," he said, adding, "I think that's an extraordinary agenda to go to an election on."