Football Federation Australia has expressed its displeasure with ABC TV's coverage of the match between Liverpool and Sydney FC in Sydney on Wednesday night, which the visitors won 3-0.
ABC2's coverage of the match stole the focus from the football itself, with a multitude of uncomfortable and awkward moments making-up the network's pre-match and half-time coverage.
It was half-time reporter Aaron Chen who gained the most attention. During a live cross, Chen was in the thick of the action asking irrelevant questions, cutting off interviewees' responses and making jokes most people, including the three presenters in the studio, didn't understand.
Chen also used the final seconds of his live-cross to promote his love for American football, regardless of the fact he was covering an entirely different code.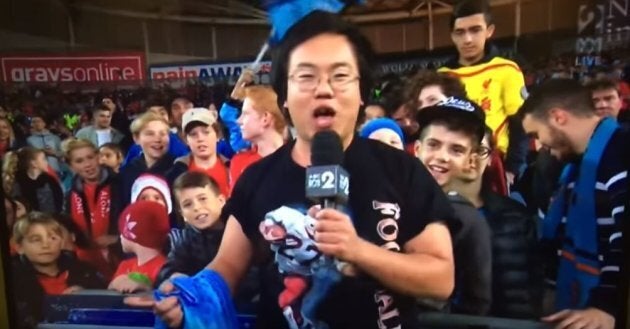 The confusion however, was not isolated to Chen and the on-field coverage. The in-studio commentary was just as awkward.
Presenters Jules Schiller, Tegan Higginbotham and Steen Raskopoulos used their pre-match segment to do everything from mispronouncing players' names to texting Aussie football legend Harry Kewell.
In its pre-match analysis, ABC2 did away with traditional technology and instead used whiteboards with cardboard cutouts of the players and coaches to demonstrate play strategies and team line-ups.
The three presenters also simultaneously texted Harry Kewell, and each asked the former Socceroo a range of questions.
"I guarantee he will write back," Higginbotham said on air after texting the 38-year-old "you called, who is dis?". Unsurprisingly, she received no response.
Harry Kewell hasn't texted back yet, but Mum just told me I had lipstick on my teeth for the entire pre-game coverage. So thats nice #livsyd

— Tegan Higginbotham (@TeganMH) May 24, 2017
The ABC has issued no formal statement, however fans have been left questioning why no former players or football experts were employed.
On the other hand, the whole thing could have been a joke which no none really understood.
ALSO ON HUFFPOST AUSTRALIA