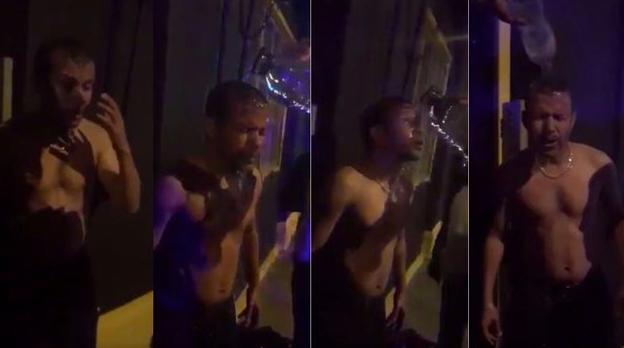 Images and footage recorded at the scene reveal that Deliveroo and UberEATS drivers were among the first to help those who had acid thrown at them.
One video appears to show delivery drivers dousing a victim's eyes with water as police try to gather details about the attack.
Other photos show dozens of delivery workers gathered together behind police tape, with witnesses on social media saying they "rallied round" following the attack.
One Twitter user wrote: "#acidattack outside my house last night, amazing seeing all the Deliveroo and Uber drivers pulling together."
One Twitter user suggested that some delivery drivers had put out a call for help to their colleagues, writing: "What no-one is reporting is the amazing networked response from fellow Uber/Deliveroo drivers using WhatsApp."
A representative from UberEATS confirmed that one of its drivers had been attacked, while others had rushed to help.
General manager Toussaint Wattinne said: "All of us are shocked by this horrific and senseless attack. We have been in touch with the courier and offered to help him and his family in any way we can.
"We would like to thank all the couriers who rushed to help in the immediate aftermath of the attack. Our team has been contacting couriers in the area at the time encouraging them to contact the police if they have any information which could assist them."
Another of the five victims was a courier for Deliveroo. A spokesperson said that the company would be working with the authorities to bring the perpetrators of the "truly shocking attacks" to justice.
"We can confirm that one of the victims of these attacks had been taking food to a Deliveroo customer," they said. "We are in touch with the rider and will be providing him with support."
The news comes after a series of reports from the Hackney Gazette that delivery drivers are being targeted by moped thieves in Hackney, with some claiming they no longer feel safe working after 9.30pm.
But a Deliveroo spokesperson said the company had held a number of meetings with riders recently to better understand their safety concerns.
"We have been working together with the Metropolitan Police for a number of months to address these issues and we are today sending its official advice to all riders on what to do if they are involved in or witness an attack," they said.
"We have been in touch with all riders who were working in these areas at the time of last night's attacks to check whether they were a victim of these horrific crimes and to gather further information that might help the police with their enquiries."
But a Met Police officer denied some reports that all of those targeted were delivery drivers.
Chief Inspector Ben Clark, from Hackney Borough, said: "I'm aware of rumours circulating that the victims were all food delivery riders set up in advance of the attacks," Clark said.