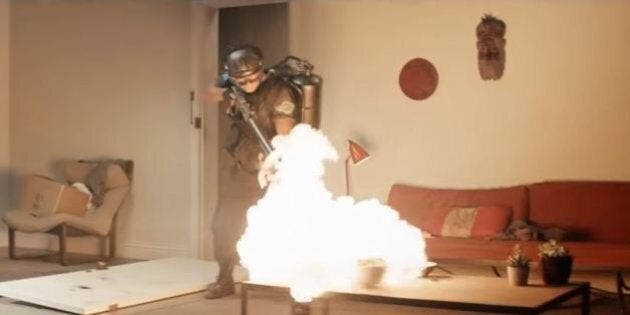 Lamb lovers around the country can sleep easy knowing 'Operation Boomerang' is still going ahead, as the Advertising Standards Bureau gave the controversial Australia Day campaign the all clear on Monday, despite hundreds of complaints.
The Meat & Livestock Australia ad starring 'Lambassador' Lee Lin Chin launched the operation to bring Aussie expats home for a lamb barbecue on Australia Day, but since hitting television screens one week ago more than 600 complaints forced the ASB to fast-track a review of the commercial.
Many critics deemed the ad discriminatory and violent towards vegans after one scene depicted a SWAT officer torching a plate of kale in a vegan's home.
But the ABS have basically told those outraged to laugh it off, releasing a statement on Tuesday concluding the ad was light-hearted and "clearly a depiction of a fantasy situation where SWAT-style teams are bringing Australians back to Australia for Australia Day."
"In the majority of the Board's view a depiction of torching of the vegan food is an exaggerated and humorous response to the food that is not lamb – a portrayal of the food being less preferable to the advertised product, and not inciting hatred towards people who are vegan," said the statement.
"Similarly breaking down the door of the man in the vegan scene is consistent with the fantasy movie feel of the advertisement. In the majority Board's view these images are all clearly fantasy and unrealistic and are not depictions of violence nor are they likely to encourage similar behaviour in real life."
Meat & Livestock Australia have welcomed the decision from ABS, releasing a statement on Monday claiming the ad has gathered "overwhelmingly positive feedback".
"As a responsible advertiser and marketer, MLA operates in compliance with the provisions of the AANA Code – and this year's Australia Day lamb campaign is no different."
"The role of the campaign remains to promote and build demand for Australian lamb, which is some of the best quality lamb in the world," MLA said.
To take the words out of Lee Lin Chin's mouth, "the barbecue is lit".