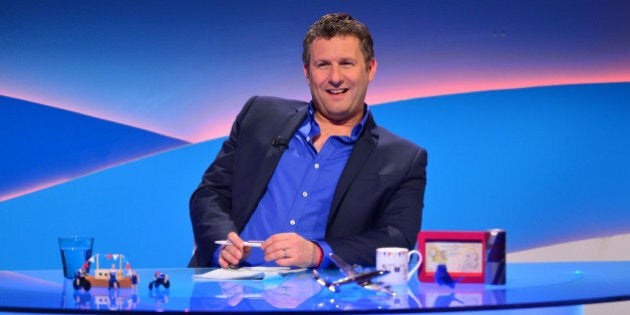 Australian comedian Adam Hills has attempted to clarify comments he made on Sunday that Pauline Hanson should be "hung... from the Sydney Harbour Bridge".
Hanson appeared on morning television segments on Sunday in relation to the Paris terror attacks, where she claimed "not all Muslims are terrorists, but all terrorists are Muslim" and claimed refugees could be "ISIS plants".
Afterwards, Hills, the former host of ABC quiz show Spicks & Specks, tweeted the following:
Two hours later, after backlash at his suggestion, Hills attempted to tidy up his comments:
On Monday, a full 24 hours after his first comments sparked backlash, Hills jumped on Facebook and -- no longer restrained by Twitter's 140-character limit -- and attempted to clarify his words for the third time.
"In my head I saw Miss Hanson in a harness, maybe a trapeze, looking comically chastened, suspended below a girder. I thought it was a funny image, so I tweeted this: 'Australia would send a better message to the world if we just hung Pauline Hanson from the Sydney Harbour Bridge'," Hills wrote.
"I committed a mortal sin of twitter -- sending a tweet and not being clear about what you mean."
He went on to again claim followers had misinterpreted his words, saying he distinguished "hung" (as in to attach something, as in hanging a painting) from "hang" (the method of execution).
"In time I have come to realise that the word "hung", although technically not the same as the word "hanged", still puts the same image in people's heads. For that I apologise. I was in no way suggesting Pauline Hanson should be executed," Hills said.
"I do not think Pauline Hanson, or anyone, should be executed, and hanged from any Australian icon, let alone the Sydney Harbour Bridge. I do not condone violence against women. I do not support the shitheads that call themselves ISIS."
Most of the comments on his Facebook post seem to support Hills, accepting his excuse that it was a misunderstanding caused by a grammatical error; this seemed to sum it up best:
For his part, Hills said the incident hasn't deterred him from making similar jokes in the future.
"I'll still aim to ridicule anyone else who speaks narrow-minded bigotry and falsehoods. I'll just aim to do it with better jokes," he concluded.