Adele has been called out over one of the sketches that appeared in the episode of 'Saturday Night Live' she guest hosted over the weekend.
Adele presented SNL for the first time on Saturday, and took part in a skit with regulars Kate McKinnon and Heidi Gardner, which saw them playing three middle-aged women who had come to Africa after divorcing their husbands.
While they spoke, shirtless Black actors were seen walking in the background on the arm of white women and, in one instance, carrying a white woman on their shoulders.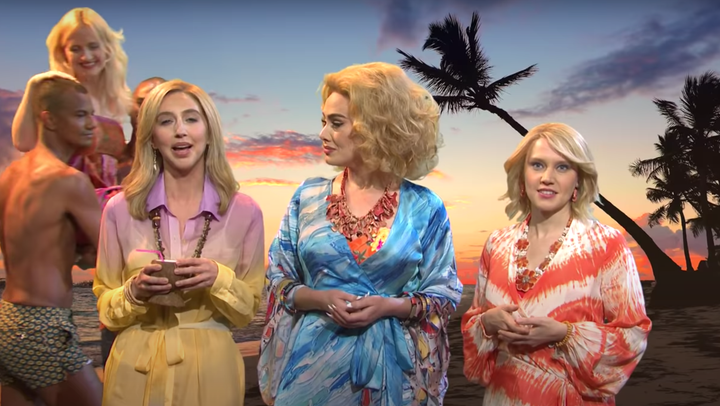 After footage of the sketch was posted online on Sunday morning, many voiced their disappointment that Adele took part in it, suggesting the clip fetishises Black men and perpetuates harmful stereotypes.
Others suggested the sketch was particularly distasteful to air at a time when #EndSARS protests are ongoing in Nigeria.
During the scene, which aired live, Adele was seen repeatedly struggling to say her lines through her laughter, which many also found insensitive.
HuffPost UK has contacted representatives for both Adele and 'Saturday Night Live' for comment.
Branding the debate "poppycock", Lammy tweeted: "This humbug totally misses the spirit of Notting Hill Carnival and the tradition of 'dress up' or 'masquerade'... Adele was born and raised in Tottenham she gets it more than most. Thank you Adele. Forget the Haters."