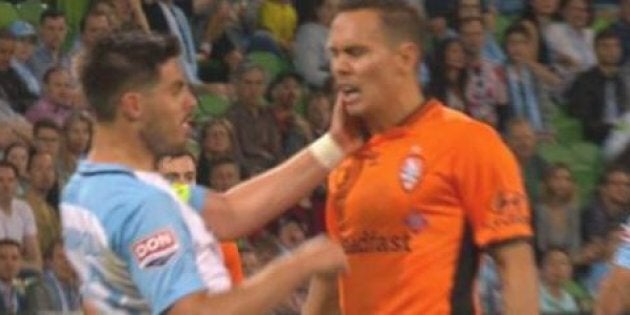 Karma. It is beautiful. Who needs a referee or a match review panel when you've got karma?
Karma it was who punished Brisbane Roar defender Jade North on the weekend. After barely being touched by Melbourne City captain Bruno Fornaroli, North fell to the ground like a giant tree felled by an axe, then flopped around like a dying fish.
Social media naturally did what social media does, which was to be merciless.
All the same, there was a clear delay between North being touched, and his collapsing to the ground like a drunken giraffe. This was a blatantly cynical attempt to draw a free kick.
North received no free kick. Indeed he's lucky he didn't concede one, as referees are well within their rights -- and indeed are encouraged -- to penalise play acting. The A-League's Match Review Panel may yet suspend North for a match.
Not that official punishment matters, because as we said, karma has already meted out justice of its own. While North stayed down to emphasise his (imaginary) pain, Melbourne City scored a match-equalising goal. And a nice one, too.
Let's be clear. That goal happened because there was a great big defensive gap which North would have filled if he'd been doing his job of defending rather than playing lawn inspector.
"If you ask me, he's cost his team a goal there" and "that's blatant simulation" were just two of the observations from the match commentators.
Supporters work so hard to downplay the amount of diving in the A-League, and now Jade North & @brisbaneroar have disgraced the league.

— West Sydney Football (@WestSydney) 3 de dezembro de 2016
A man who's played 41 matches for the Socceroos should definitely have known better. Insiders say the Brisbane Roar is furious, and may yet deal with North at an internal level.
You can watch the incident in its entirety here.