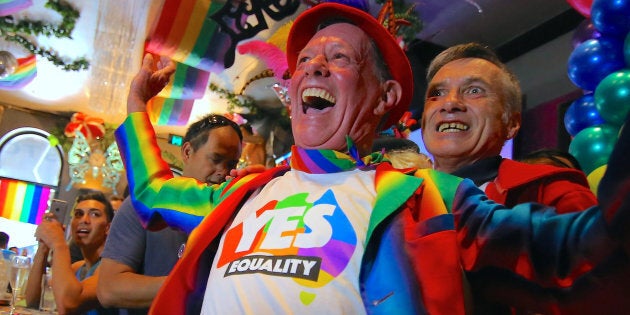 The night after the postal plebiscite, Google searches for the phrase 'wedding planner' jumped up more than five times its usual level. Searches for 'wedding' and 'wedding ring' also rose.
And with experts saying that an extra $1 billion could be spent on marriages in the next few years in the event that same-sex marriage is legalised by parliament, the wedding industry is gearing up for it.
According to census data, the number of same-sex in Australia couples has increased by 81 per cent in the past ten years. In 2016, more than 47,000 couples were counted.
Pialligo Estate, a popular wedding venue in Canberra, said that some weddings were booked years in advanced.
"If you want to have weddings at peak times, the sooner you can get in a book, the better you are," director Rowan Brennan told the Canberra Times.
"Given this is all going to get passed -- and I assume it's only going to be a formality from this point -- that means next year, same-sex couples are going to be competing with traditional weddings that are reasonably busy anyway".
According to research from McCrindle, there are around 120,000 weddings per year. While the proportion of the married population is declining, the number of marriages has increased marginally in recent years due to a rise in the general population.
On average, 326 weddings are held every day in Australia, but the rate fluctuates wildly throughout the year. The most popular days to hold weddings are New Year's Eve, Valentine's Day and Australia Day.
And the legislation on same-sex marriage may just pass in time for couple to celebrate on days like Valentine's Day and Australia Day.
Because the House of Representatives only sits again from late November, and because the law requires you to a lodge a Notice of Intended Marriage form at least one month before you can call your partner a husband or wife, the earliest same-sex marriages may start to happen from around January 8.
Speaking to HuffPost Australia, a spokeswoman from wedding planning company Audrey & Angus said that they were anticipating the impact that the law change would have on the industry.
"Non traditional ceremonies, normally held in gardens, beaches and country settings are growing increasingly popular. People are becoming more creative and celebrating their marriage in new and interesting ways and going beyond the traditional 'church' style," the spokeswoman said.