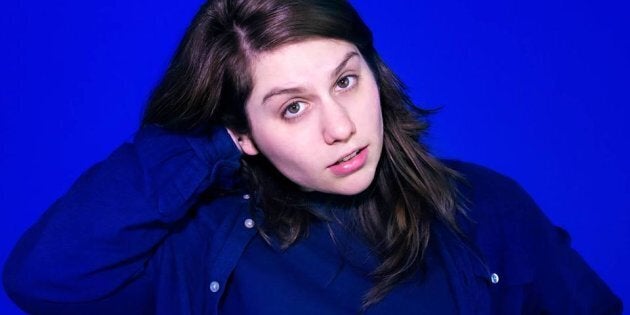 "It definitely feels like the calm before the storm."
Alex Lahey is at home in Melbourne. The singer-songwriter indie star is taking a moment to relax -- well, as much as anyone can relax in the weeks leading up to releasing a debut album, in the middle of a hectic press schedule, planning a music video shoot, and staring down the barrel of a mammoth tour of at least 42 concerts across three continents between now and Christmas.
So 'relaxing' might be an exaggeration.
"There's heaps of stuff that goes into getting these things ready before they actually happen. It's totally like smoke and mirrors, you wait for bands to put out this album and it seems to magically appear," she told HuffPost Australia.
"This time has been about making sure the tour is going to be really good, making sure the record is ready to go out, a smooth roll-out and then we're making another film clip this weekend which is cool."
Lahey -- all long dark hair, t-shirts and jeans -- has been plugging away in Melbourne's music scene for a bit, but burst into the collective consciousness of the wider Australian public after winning a Triple J Unearthed competition to land a gig at Splendour In The Grass 2016. It was her song 'You Don't Think You Like People Like Me' that did it, a quiet sing-song chorus giving way to a fuzzy, shout-a-long chorus about relationship dramas and unrequited feelings.
Coming up just as Aussie audiences started truly warming to the idea of solo female rock'n'roll songwriters, Lahey helped spearhead a burgeoning groundswell of immensely talented women armed with guitars and standing proudly behind their own names -- Ali Barter, Jack River, Gretta Ray, Bec Sandridge, to name a few. Fast forward to 2017, Lahey has already toured the U.K and USA, supporting the likes of Tegan and Sara, and playing South By Southwest and some of Australia's biggest festivals... all before even releasing an album.
"We've just been getting things ready, getting my chops up to get back on the road and get mentally prepared for it as well. It's a crazy, pretty big slog," she said of the coming tour in support of said album, 'I Love You Like A Brother'.
The tour starts with a headline run across Australia from early October, ending in Western Australia before hopping straight over to Europe for a jaunt through the Netherlands, Germany, Switzerland, France and the United Kingdom, then jetting across the pond to America for a full national tour there. She's also playing the Yours and Owls festival in Wollongong on September 30, and the Marion Bay and Fremantle legs of Falls Festival over New Year's Eve.
It's all in support of what will likely be regarded as one of the most charming, fun, exciting and promising albums from any Aussie artist this year. 'I Love You Like A Brother' is a record of love and relationships, Lahey says, in all their forms -- from romantic to family, friends, down to the relationship someone has with themselves. Filled with thick riffs, infectious hooks, shout-a-long choruses and relatable AF lyrics about dating, dramas, drinking too much, gaining weight and taking risks, the album is instantly catchy and irresistable. The latest single, 'I Haven't Been Taking Care Of Myself' -- the single she told us she was shooting a video for -- is an ode to millennial malaise, dropping references to pimples, booze, body issues and wondering "why you don't love me as much".
"If you had to find an overarching theme, it would be relationships, whether romantic, or with your parents, your friends, or the relationship someone has with themselves. It's so easy to write about love, the fickleness of that, but writing about the love that is unconditional or good for you to work on, it's something we don't discuss much in music. It was really fun to explore that when writing the record," Lahey said.
"I set myself some challenges in there. One day I wanted to write a song about my brother. When you say you're going to write about your family, you'd think it would be this big emotional thing, but this song was a two and a half minute Ramones punk thing we bashed out, which was fun."
The title -- a phrase which, Lahey admits, has broken the heart of many a lovelorn suitor when heard from a romantic interest -- is a reference to her actual brother, but she said she also liked the wordplay.
"I liked the duality of it. If i was to say that to someone, it could be the best thing or the most humbling thing to say, or they could be also totally crushed and the last thing they want to hear. To say that to someone, it has so many meanings," Lahey said.
"It's the greatest relationship you could have with someone, it's reflective of them being part of your family, the most primal bond you could share with someone. But if you were to say that to someone who was into you, they'd be like 'oh my god, I want to die'. There's something really interesting in the duality, the multi-faceted nature of the phrase."
The album is out October 6, when she will celebrate with a show at Sydney's Oxford Art Factory. Then it's straight into a few months on the road. Lahey is actually looking forward to it, the challenge and novelty of touring overseas in a different way than bands do in Australia.
"Touring here is just playing only the weekend, going to Sydney and Brisbane and Melbourne. Now it's more block periods of intense touring rather than it happening in weekend timelines. When you look at it that way, it's an intense period then I can breathe, rather than this constant limbo," she explained.
"I need to make sure I'm in tip-top shape for 40 shows, which is so exciting and will be really exciting to go into these physical and mental challenges and figuring out what works for me. It's going to be really exciting, rather than this window where you're going away every weekend and recording an album and doing a million things at once. It'll be really fun to concentrate on being on tour, and I hope that makes for really good shows.
"I'm really excited, but it is big."