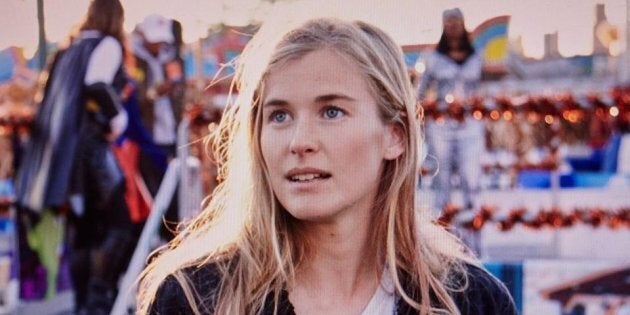 Academia. Sport. Music. Most people would be happy to be good at just one. Alex Lynn is currently killing it at all three, a world away from home in the USA but still making waves in Australia.
We catch her on Skype in her dorm room at Long Island University, where the 21-year-old is on a sport and academic scholarship to play soccer for the college team -- she plays right forward -- and study physics and maths. She also records under the name Alex The Astronaut, a nom de plume harking to her interest in space and science; she's got a clutch of bright Paul Kelly-esque guitar-folk-pop songs, which have landed her on radio airwaves and 'one to watch' lists nationwide.
Not that she's had much time or opportunity to really revel in it, what with the time differences, homework and soccer training. She plays down her busy schedule.
"Everyone has lots of stuff to do. I just have to keep organised. Sometimes I forget I have work to hand in," she says.
"With music it's good because my managers remind me, but in school, sometimes I forget I have a test. I just have to be really organised."
"It's not bad. It's alright."
She cites Paul Kelly, Bob Dylan, Courtney Barnett and David Bowie as her big influences; simple, pure songwriters who tell stories of the ordinary and everyday through song. Their fingerprints are clear through her first singles and EP, 'To Whom It May Concern'. She picked up attention from Triple J early, with her track 'Already Home', a melancholy number about a bus ride and ruminations on the mundanities of life -- "there's billionaires for president, and parking fines at hospitals" -- before current single 'Rockstar City', about her life living in New York. It's upbeat, simple and infectious, about overcoming stage fright and nerves at a gig in the Big Apple.
Mum, I sang in Rockstar City,

I think you'd be proud- 'Rockstar City'
"You get so scared about playing in New York. It's good for your performing abilities, you have to adapt. I don't know many poeple here so the crowds here are harder than the crowds at home," Alex said.
"I might know five people max in crowds here, everyone else you have to win over. I've found that really fun."
She plays the occasional gig in NYC, but it's mostly study right now. She's interested in theoretical physics, studying thermodynamics and astrophysics, and working on her thesis, with plans to do her PhD. It's difficult juggling school with music commitments around her budding career in Australia.
"Sometimes my teachers don't believe me. There's been a couple of times when I've told them I'm going in to meet Universal Records or do something that means I have to miss class. I dunno, sometimes I think they think it's an elaborate excuse for not going to class,"Alex laughed.
Does she wish she was back at home while her music life was picking up speed?
"It's really cool to be over here and having it all happen. I get more time to write, I get some space to keep doing what I'm doing rather than runing around platying a lot of shows," she said.
"I like being over here while this is happening."
Her EP came out at the end of March, and she's already plotting her next move in Australia. She's lined up a tour with Dustin Tebbutt and Lisa Mitchell through June, her first national tour. As for after that, she's not quite sure.
"I think I'll be doing music for a year or two, just do that after i graduate. I think I'll do my PHD after that," Alex muses.
"When I get back [to Australia] in late May, we're going to record again, I think we'll do a second EP and a few singles later this year. Then we'll do an album maybe next year."
ALSO ON HUFFPOST AUSTRALIA