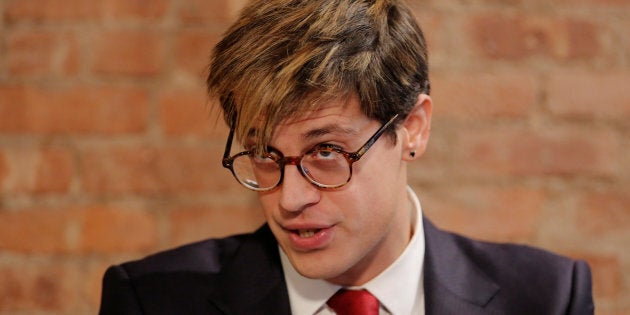 Milo Yiannopoulos, the British provocateur who claims that "feminism is cancer", is touring Australia in early December.
The tour, organised by Penthouse Australia, will reach Adelaide, Perth, Melbourne, Sydney and the Gold Coast. Yiannopoulos will be promoting his new book 'Dangerous' on the trip.
The internet icon has been criticised by many as a discriminatory troll: he was banned from Twitter last year for calling Ghostbusters actress Leslie Jones "barely literate" and a "black dude". Yiannopoulos publishes videos on his Facebook and YouTube channel that often attract millions of views, such as the videostitled 'Milo Yiannopoulos tells lesbian she doesn't exist' and 'Milo Yiannopoulos on why Modern Feminism Is Cancer'.
The former writer for far-right media outlet Breitbart News resigned earlier in the year after comments surfaced where he appeared to endorse sex between "younger boys" and older men, and also said that consent is "not this black-and-white thing".
More recently, Yiannopoulos has been the subject of fierce protests in the United States over his tour of college campuses - in February his appearance at UC Berkeley attracted more than 1,500 protesters.
It even attracted the attention of Donald Trump, who tweeted:
Last week, Yiannopoulos returned to the UC Berkeley campus for a short 20-minute event, in place of the failed 'Free Speech Week' that had been axed by organisers days earlier.
Penthouse Australia defended the move to bring Yiannopoulos, 32, to Australia, saying:
"Penthouse has championed the right to free speech for over 50 years. The magazine was founded in 1965 during the sexual revolution, and through its investigative reporting and irreverent editorial, it fought for progressive causes including women's rights, civil rights, the rights of Vietnam Veterans and helped change the world - none of which could have been possible without our right to free speech."
Correction: An earlier version of this story stated Milo Yiannopoulos was a U.S. citizen. He is, in fact, a British citizen.