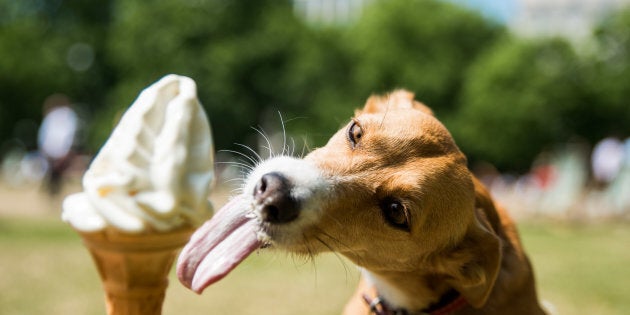 The heat -- which peaked at a not entirely sizzling 34 degrees at Heathrow in west London -- pretty much caused the Brits to drop wherever they happened to be, and either: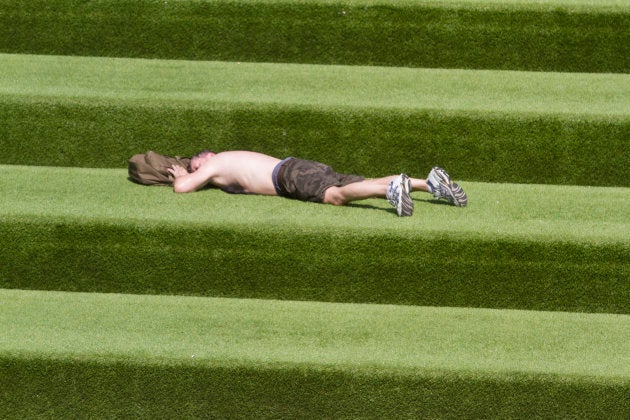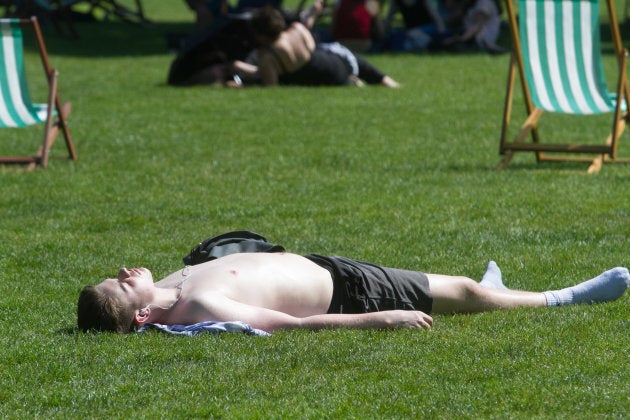 c) sleep slumped on a park bench, or;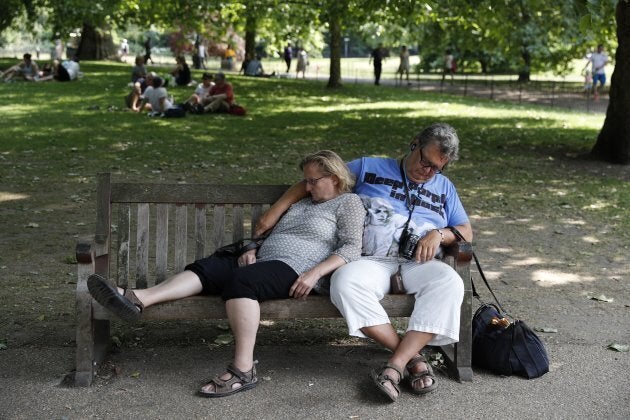 d) stand there in a bemused way in an odd little pair of blue shorts going "seriously, WHAT IS WITH THIS HOT WEATHER?".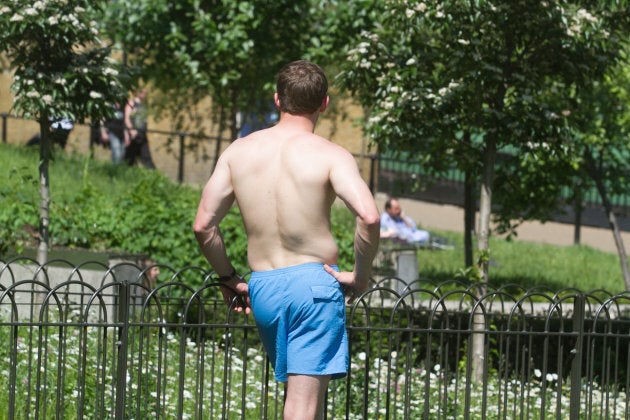 So what are we Australians to make of this outbreak of so-called extreme "heat"?
Well, the first thing we'd point out is that parts of Australia actually exceeded Britain's "high" temperatures this week, in the season we like to call "winter". You can see that illustrated pretty well on this map.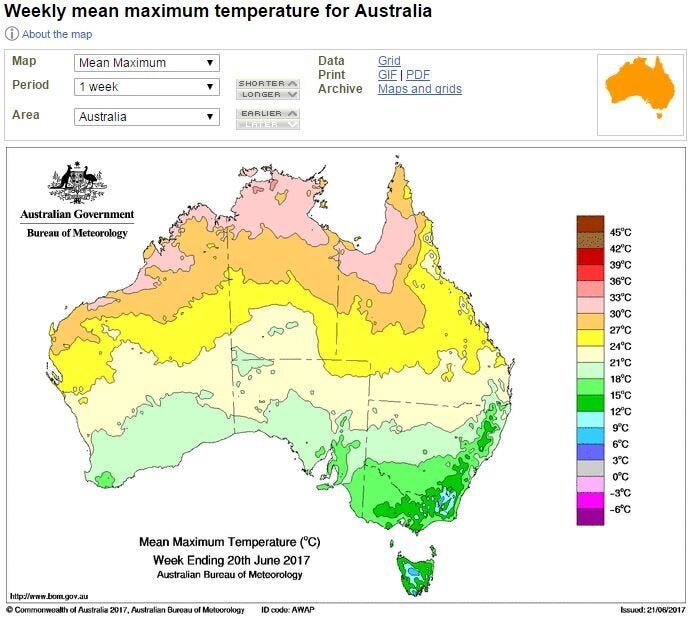 As you can see, a couple of the dark pink bits up near Darwin show temps in the 33 to 36 degree-temperature range. Indeed we can confirm that at least one location in that area topped 34 degrees three times this week.
Heatwaves, of course, are a relative concept. The U.K. Met Office defines a heatwave as:
"A prolonged period of hot weather, which may be accompanied by high humidity. We tend to use the World Meteorological Organization definition of a heatwave which is "when the daily maximum temperature of more than five consecutive days exceeds the average maximum temperature by 5 degrees."
By this measure, London did indeed technically have a heatwave. London's average maximum in June is 20. Notwithstanding higher spikes in some suburbs, the city recorded official maximums of 29, 31, 32, 31 and 33 from Saturday to Wednesday.
Here in Australia, our Bureau of Meteorology describes a heatwave more generally as:
"Three days or more of high maximum and minimum temperatures that is unusual for that location."
As we all know, last summer was a scorcher in eastern Australia, with heatwave after heatwave, especially in NSW and Queensland.
On January 24, we ran a story on the suburb of Penrith in western Sydney, which had endured 17 days of 35 degree plus weather -- which included six days over 40, and a 45 degree day.
Now that's what we really call a heatwave. Not that anyone complained. in Australia, people just kind of get on with things. In Britain? Um, yeah.
Meanwhile, much of Australia continues to be extremely warm for June. The map below shows well-above average temperatures for pretty much everywhere except one or two spots where heavy rain fell.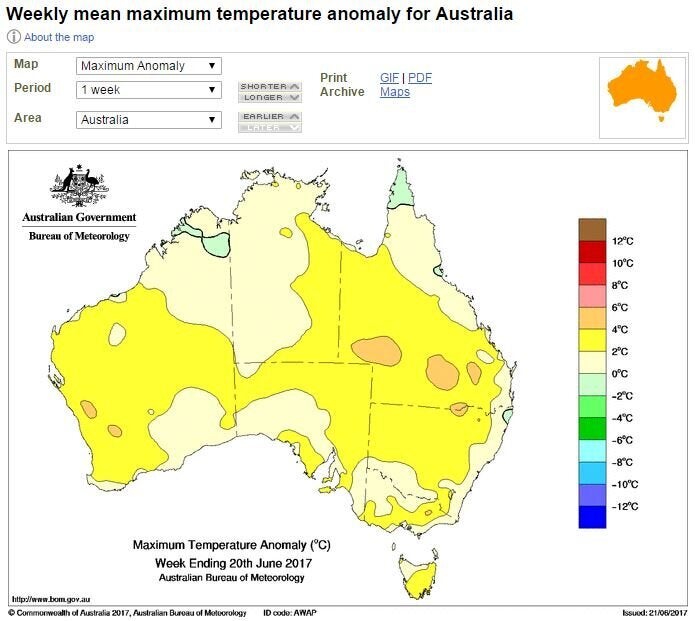 This is the sort of data that suggests weather patterns are altering over the long term, as climate scientists have predicted.
We also know that heatwaves in Australia are increasing, as this graph in the Bureau of Meteorology's 2016 State of The Climate Report shows clearly.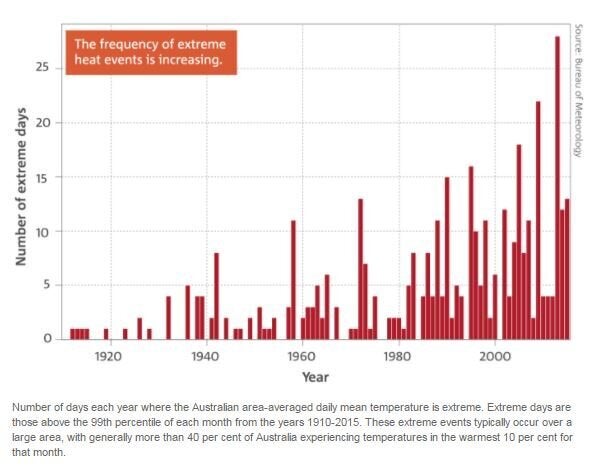 But you can't interpret individual events as evidence of a broader trend, so for now, both Australia's warmer start to winter and Britain's "hot" week should be chalked down to normal variations in weather.
ALSO ON HUFFPOST AUSTRALIA