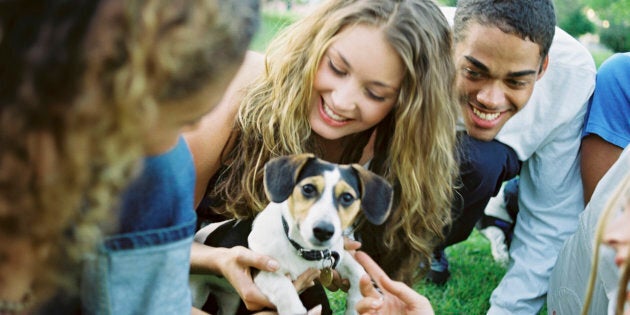 If you're the kind of person who loves to eat delicious food and pat every dog you come across (uh, so, EVERYONE), you'll want to make your way to the Cruelty Free Festival in Sydney this Sunday, the 30th of October.
The annual festival is all about delicious vegan food, adorable dogs, live bands, exciting cruelty free and vegan products, and an animal art show.
Not vegan or vegetarian? That doesn't matter -- the Cruelty Free Festival is about everyone coming together to celebrate and enjoy cruelty free lifestyle options.
"I can't emphasise enough how much this day is created to attract non-vegans," Lara Hodge, Cruelty Free Festival event manager, told The Huffington Post Australia.
"Our target market is very much people at the beginning or part way on their journey to come and explore all the options out there in a fun, festival environment.
"This is an open day for anyone and everyone to come explore just how easy and wonderful cruelty free living can be. You'll see you won't miss out on anything, especially when it comes to delicious food."
Famous vegetarian fast food chain, Lord of the Fries, will be serving up their ridiculously delicious and 'meaty' burgers.
New at this year's festival is a host of incredible animal-filled events -- the best kind of event.
"We will have all-day Speed Dating (meet another animal lover!) and for the first time Doggy Speed Dating, an open session for dog lovers to mingle with pooches," Hodge said.
There will also be a retro photobooth stationed where you can get a photo with fellow animal lover friend.
"Our cruelty free fashion parade will include an exclusive walk on the catwalk with The-V-Spot, who are a wonderful cruelty free fashion company sourcing the best in vegan fashion from around the world to showcase on the catwalk."
Speaking at the Cruelty Free Fest include James Mathison and Arianwen Parkes-Lockwood as MCs, and first timers Kristin Lajeunesse from the popular blog Will Travel For Vegan Food, Dr Leila Masson and youth speaker Bailey Mason.
"There is so much information out there now about why to live more cruelty free. The Cruelty Free Festival then provides the how, along with further inspiration, all set in a welcoming community atmosphere," Hodge said.
Basically, the festival is heaven for any vegan, vego or animal lover, with everything at the festival being 100 percent vegan and certified as not having been tested on animals.
"It really is the most wonderful shopping opportunity where no one needs to double check labels, as we've already done all the scrutinising for them," Hodge said.
"The other huge part of the Cruelty Free Festival is all the wonderful animal groups that will be there on the day, the ones actively providing a voice for animals. This is an amazing opportunity to find out more about what these organisations do and speak to the faces behind the websites and Facebook pages."
Your beauty needs are also covered at the CFF.
Massive foodie? There's something sweet and savoury for vegans and omnivores alike.
Suzy Spoon's Vegetarian Butcher
GogoVego pasta
Yulli's Restaurant
Gourmet Earth
Nourishing Quarter
Green Gourmet Kitchen
Herbisaurus
O!momo
Green Wise Monkeys
Lord of the Fries
Authentic Turkish Gozleme
Funky Pies
Veggie Patch Van
Hungry Herbivore
Two Girls One Bowl
Rhubarb Bakes
The Chocolate Yogi
Green Goodness
Halfpint Vegan Dairy
Crafted
Trialia Foods Australia (Eskal)
Extraordinary foods
Sprout and Kernel
Macquariedale Organic Wines
Pana Chocolate
Over The Moo
Waffles & Dom
FlyingPigCoffee
Dos Churros
The Muffin Mob
Little Zebra Chocolates
Space Bars Ice Creamery
Cruelty Free Festival

Australian Technology Park Exhibition Hall, Eveleigh
10am – 5pm (doors open at 9:30am) Sunday, 30th October
Cost: $5 for adults, free for kids (and dogs)
Click below to follow HuffPost Australia on Snapchat!