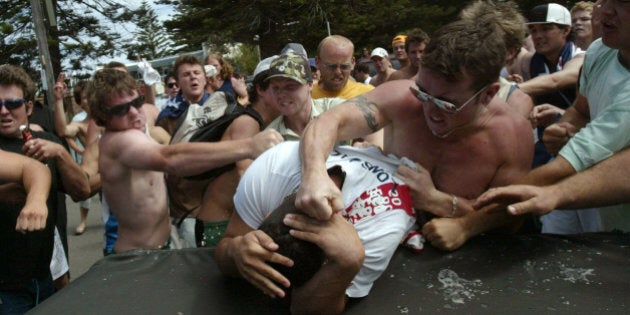 December 11, 2005 is a date that leaves an indelible stain certainly in Sydney's and perhaps even Australia's history.
In the decade since, anyone with ties to the southern Sydney beachside suburb of Cronulla has been scarred with a stigma that's proven tough to shed.
Prior to that grim summer's day, Cronulla had been my home for 23 years and I would proudly sing its praises wherever my travels took me. The place remains one of geographical splendor, but the unfortunate racial events that occurred 10 years ago cast an ugly shadow over a proud community.
One of the benefits of growing up in a global metropolis such as Sydney is to be immersed in various cultures. Australians are renowned travelers and the fact we are given an authentic taste of foreign ways of life in our own backyard plays a significant role in our collective inquisitiveness to experience these customs on 'foreign' shores.
Whilst the Asian influence tends to dominate many regions of Sydney, Middle Eastern culture has firmly entrenched itself throughout our city. Travel to New York or London and you are greeted by the smiling faces of native Syrians, Iraqis, Afghans, Jordanians and Lebanese. This cultural diversity is one of the major reasons why these great cities, along with Sydney, are destinations people seek to explore and experience.
Unfortunately, a minority tend to portray an image that falsely represents the thoughts, and spirit, of the population.
Summer in Cronulla is sublime -- a stretch of surf and golden sand where people can relax however they like, be it be riding the perfect wave or spending the day enjoying the surroundings with family. In 2005, a series of provocations from a small group of teenagers of Middle Eastern descent on the shores of Cronulla's beaches led to the riot that now casts an ugly shadow of racism in Australian history.
Whilst the actions of the teenage culprits disturbing the peaceful unity of Cronulla must be condemned, the ensuing reaction -- a spontaneous call to arms by alcohol-fueled locals, is undoubtedly the most regrettable incident to have occurred in the place I grew up admiring. Witnessing unsuspecting and innocent people be set upon so relentlessly is an image that will, unfortunately, remain attached to this otherwise-alluring suburb forever.
Prior to the chaos, locals barely gave a second thought to a night-time beach stroll, a mad dash to collect a few groceries or a quick drink at a local pub. For weeks following the race riot, Cronulla went into lock down. A mere 500 metres from Cronulla Golf Club, an almost laughable incident showed just how fearful the streets had become.
Following a casual nine holes on a stretch of land that became somewhat of a refuge, a friend of mine was halfway home when he was pulled over by the local police and fined for carrying 'weapons' (his golf clubs) in his vehicle. An unnecessary and protracted appeal process took place, with the correct decision and common sense eventually prevailing.
Ten years on, it's with much regret that I don't see those cultural gaps mended.
Having spent much of the past few years living in New York City, I watch the joyful intermingling of its residents, in spite of the 21st century's greatest abomination transpiring on its doorstep. For the most part, there is a bona fide level of respect and a mutual appreciation that this is 'our city' and we will band together to make this the best city in the world.
In years to come, it's not only my wish and those of Cronulla's proud community, but a widespread desire for all of our citizens to stand against racism and move forward proudly as Australians, ensuring our country remains the greatest, and most tolerant, on earth.