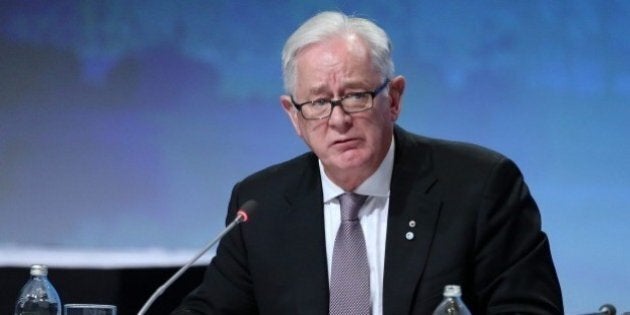 Minister for Trade and Investment, Andrew Robb, has announced he will be departing politics for a new career in the mental health sector and the corporate world.
Speaking on The 7:30 Report for the first time since announcing his departure, the Trade Minister said he still had another career left in him.
"I'm 64 and in excellent health.. There's things I want to do, particularly in the private sector and some in the mental health space, and I didn't want to leave that too late," Robb told Leigh Sales.
Prime Minister Malcolm Turnbull has requested Robb remain in his current position for "some months", which may still see the Trade Minister leave Parliament House before the election.
"He has said to me that he would like me to stay on for some time, some months, perhaps, so that I can try and complete a couple of important areas of business that I have got to a fairly advanced stage," Robb said.
"So I'm very keen to do that. And he will make an announcement in due course as to when I will step down and who will replace me."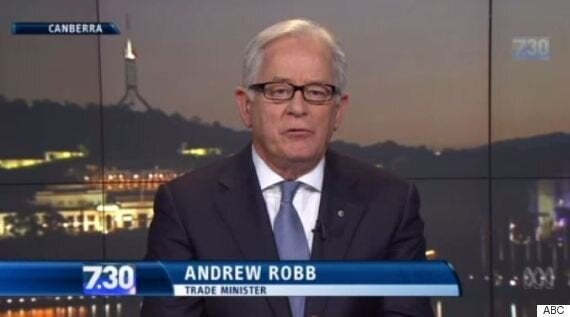 Trade Minister Andrew Robb spoke to Leigh Sales on 7:30 on Wednesday night
Malcolm Turnbull released a statement on Wednesday night confirming the Trade Minister is still involved in ongoing free trade negotiations.
Robb secured the Trans Pacific Partnership along with three free trade agreements with Japan, China and South Korea in his time as Trade Minister.
The 64-year-old, who has spoken openly about living with depression, said mental health has been neglected in the "whole area of health" for many years, but the stigma is slowly beginning to be broken down through public discourse.
"That is leading to more people being prepared to step up, more champions for the sector, more money coming in," the Trade Minister said.
"In fact, we're starting to lead the world on mental health. And yet there's still a long way to go and even on the stigma issue, it's not satisfactorily dealt with yet but we have made a lot of progress."
The Deputy Prime Minister and Leader of the Nationals Party, Warren Truss, is tipped to announce his resignation on Thursday.