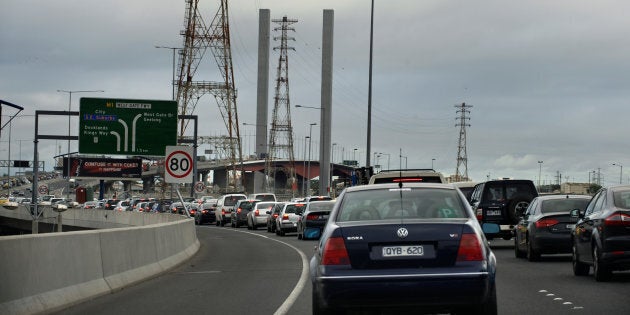 Taxis have arrived on Melbourne's Bolte Bridge for a peak-hour blockade to protest industry reforms introduced by the Victorian Government.
Hundreds of taxis are said to be going slow over the bridge, which connects the northwest suburbs to the city.
The taxis are driving at about 5 kilometres per hour with their emergency lights on, causing extensive traffic delays in the area.
The blockade on the bridge began just after 8am, with participants hoping the action will prompt a rethink from the Victorian Government on taxi industry reforms.
Melbourne's CityLink authority is urging commuters to allow extra time if travelling through the impacted area on Monday morning.
Drivers want the government to wind back its move to legalise Uber, dump the introduction of a $2 levy on all trips made by hire cars and taxis, and scrap the current model of taxi licences.
The Victorian Taxi Association strongly opposes measures, claiming that they are unworkable and will result in a 20 per cent fare increase on country trips.