The Grammy-winning singer announced that she is engaged to boyfriend Dalton Gomez on Instagram Sunday afternoon after dating the California real estate agent for reportedly close to a year.
"Forever n them some," she wrote alongside a slideshow of photos, including a close-up of her eye-catching engagement ring.
In a handful of photos, the 27-year-old flashed a ring with a massive diamond sparkler and what looked like a white pearl on a thin platinum band.
Well-wishes and congratulations from Grande's famous friends immediately poured in, with her manager Scooter Braun, Hailey Bieber, Kim Kardashian, Demi Lovato and others weighing in the comments.
"Congrats to these two amazing souls," Braun wrote. "Ari we love you and could not be happier for you. Dalton you are a lucky man."
"YAYYYYYY!!!!😍😍😍😍😍 so happy for you guys!!" Bieber added in her own separate comment.
Kardashian echoed the sentiment: "Soooo happy for u guys!!! ✨💍 Love you!!!"
"💞💞💞💞 this ring is everything!!!! 🙏🏼🙌🏼💞 I love you," Lovato said.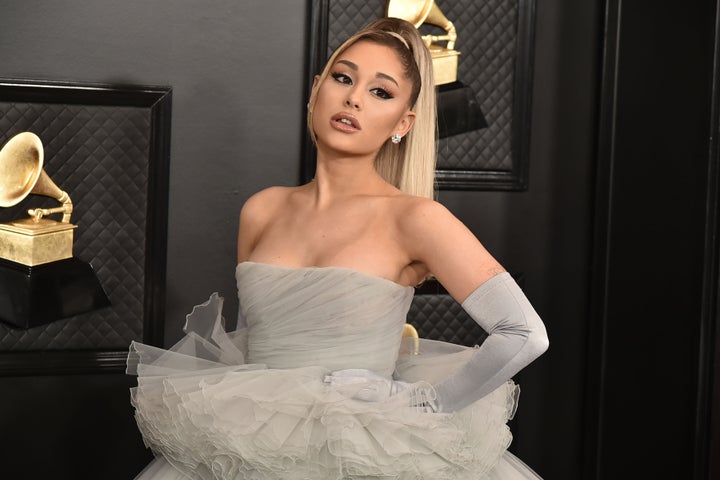 "They couldn't be happier. They're just so excited. This is a happy time for them. Both sets of parents are thrilled," an unnamed source told People about the engagement.
Grande and Dalton first confirmed their romance in June, when they appeared together in her quarantine-themed duet with Justin Bieber, "Stuck With U."
The two, however, were first linked as early as January, People reported, and were spotted kissing by onlookers in a Northridge, California, bar the following month.
Their relationship only seemed to escalate from there. The pop superstar was reported "spending a lot of one-on-one time" with Gomez, and they quarantined together at the singer's home in Los Angeles amid the coronavirus crisis lockdown.
After a series of high-profile relationships, Grande and Gomez largely kept their love life out of the public eye, save for some rare Instagram posts.
An unnamed source told People over the summer that the "Positions" singer "doesn't want to do another public relationship so she is trying to keep this one quiet."