Last November, as news was still sinking in Donald Trump had won the U.S election, Arianna Huffington was on stage at the World Business Forum in Milan lamenting the then-president elect's inadequate sleep patterns, and her own temporary sleep deficit.
"I have to confess that although I am believer in eight hours sleep I did not get eight hours sleep last night," Huffington said, referring to the marathon election-watch of the night before.
Months into Trump's presidency the late-night tweeting has barely subsided -- indicating the Lincoln Bedroom might be getting less use than is ideal.
You can bet, however, Huffington has returned to "escorting her phone from the bedroom" before retiring for the night.
The co-founder of The Huffington Post, who has moved on to her own new startup venture Thrive Global, is coming to Australia in May to deliver her message about burn-out, in person.
"I want to talk about what is happening around the world, that is becoming a real epidemic of stress and burnout," Huffington told WBF Milan.
"And we definitely saw that during the campaign with the new president celebrating the fact that he only gets four hours a night and we see the results of sleep deprivation.
"Aren't you surprised that there are so many business leaders, with very high IQs, making terrible decisions, let's face it. It is not that they are not smart.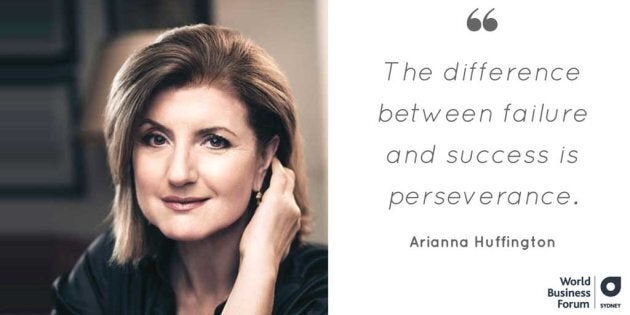 "What they lack is not intelligence but wisdom. Because the truth is that we're drowning in data. We've never had more data but we're starved for wisdom. And it's very hard to find wisdom when we're always plugged in, to the latest certification, the latest social media, the final email of the night.
"In fact right now, I can assure you you all take better care of your smart phones than you take care of yourselves. I bet everybody here knows approximately how much battery remains on your smart phone right? But how much battery remains in you?"
Arianna Huffington will be presenting at the World Business Forum Sydney 2017 alongside Jimmy Wales and Randi Zuckerberg. The Huffington Post Australia is proud to once again be a Media Partner and our readers are entitled to discounted rates by using promo code: HUFF10