An artist with schizophrenia has created a series of images illustrating her hallucinations in the hope of destroying misconceptions around mental health issues.
Kate Fenner, 18, was finally diagnosed with schizophrenia at the age of 17 after years of being misdiagnosed with other conditions.
She experiences anxiety and depression linked to her illness and hallucinates seeing bugs and hearing voices.
The teenager hopes her images will counteract the negative way the media often portrays mental illnesses, such as schizophrenia.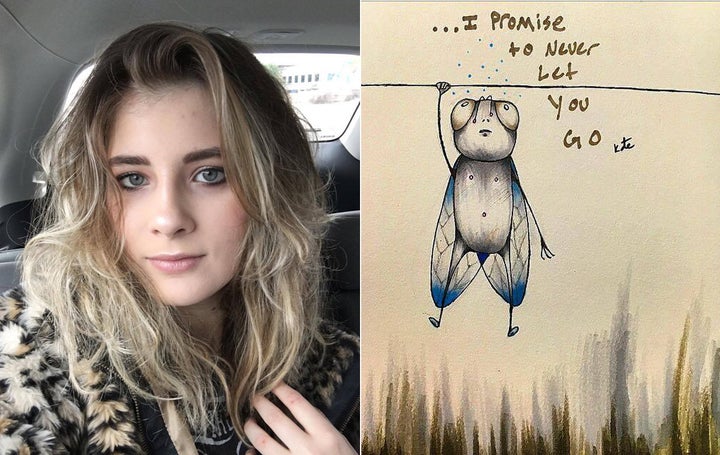 "I personally feel like the media portrays any kind of mental illness in a way that makes people afflicted look incompetent, violent and lazy," she told The Huffington Post UK.
"While that may be the case for some, most people I know that suffer from some type of mental illness are normal people. The media lacks a portrayal of real people who have to live with it."
She believes inaccurate media portrayals fuel the cultural silence that surrounds mental health.
"People are afraid to be open about it for fear of being ostracised or looked down upon," she said.
"I understand the risks of being public about hallucinating bugs and voices, but I'm willing to take those risks in an attempt to normalise mental illness (by making it acceptable to talk about and inspiring people to seek help if they need it) and to educate people."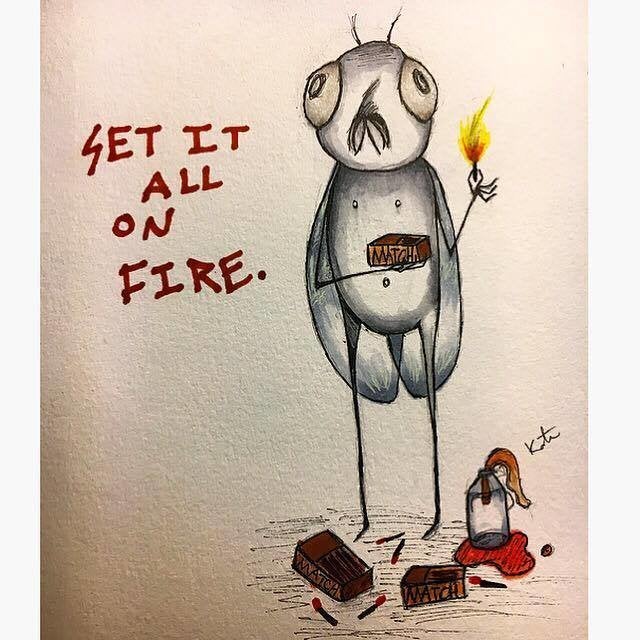 Much of Fenner's art is based around flies, which she chose to represent how she sometimes feels "worthless, insignificant and annoying".
Other illustrations, such as one showing a spider, are directly inspired by hallucinations she's had.
"It often feels like bugs are crawling in and out of my skin," she added.
"The fly saying 'set it all on fire' is based off of a voice I hear sometimes, that tells me to light things on fire."
She said people are often confused when she tells them she hears voices, but she hopes her art will change that.
"When I tell people I hear voices they give me a sort of bewildered look. Which I understand, however, it's normal for me," she said.
"It's normal for many people, which is why I'm being open about it. I don't feel like I should have to hide this, so expressing it through these drawings is one way of sharing it.
"Suicidal thoughts and depression are one of the most common ailments and they're also ineffectively treated."
The teenager has struggled with suicidal thoughts and compulsive self harming in the past, which has left her with scars on her arms and legs.
But she finds drawing therapeutic and hopes her illustrations will also have a positive impact on others living with mental health conditions.
"I hope my art will speak to those who feel lonely and lost," she said.
"At times when I have felt that way, I always looked to my inspirations for comfort: Heath Ledger, Tim Burton, Batman comic books. I want my art to invoke something within people that drives them to follow what they are the most passionate about."
See more of Kate Fenner's illustrations below or follow her on Instagram to see more of her work.
Useful websites and helplines:

Mind, open Monday to Friday,9am-6pm on 0300 123 3393
Samaritans offers a listeningservice which is open 24 hours a day, on 116 123 (UK and ROI - this number is FREE to call and will not appear on your phone bill.)
Get Connected is a freeadvice service for people under 25. Call 0808 808 4994 or email: help@getconnected.org.uk