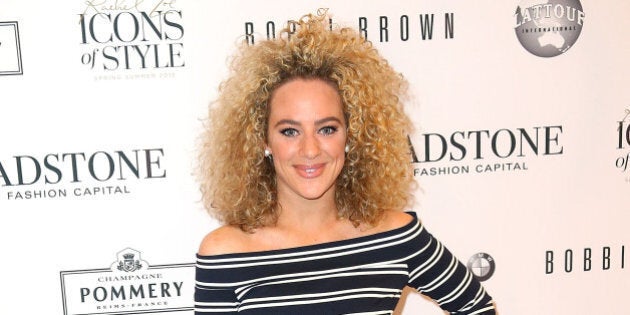 Anybody into reality TV (or even if you're not) will have most likely heard of Ash Pollard. If you didn't see her on season six of "My Kitchen Rules", it's likely you caught her on the 15th season on "Dancing With The Stars" -- or at the very least seen her trademark curls plastered around town on promotional materials.
But while Pollard is now a household name in the Australian media, it wasn't until the beginning of this year the former event planner entered the public eye. And while the road to fame via reality television is not without its success stories (Guy, Ricki-Lee, Millsy -- we're looking at you), it can also be a rocky one, with previously unknown faces thrust into the limelight with little or no idea on how to prepare.
So what is it really like being a reality TV star? And what happens when the cameras stop rolling?
"I think something people might find surprising is the amount of hours you actually have to put into it," Pollard tells The Huffington Post Australia. "It's the definitely the amount of hours, the late nights and the fact you never get a day off. Well, we certainly didn't on MKR."
"It's like you've literally been thrown into reality TV land, and you're almost expected to fend for yourself."
Pollard notes that given her acting history -- she graduated from Actors Centre Australia in 2008 -- she had some advantage in that she had a rough idea of how long a shoot could take.
"I guess I was lucky in the sense I am quite observant of TV shows and also had learnt a few things at acting school," Pollard said. "I had a sense of how much work you have to put in when filming something, so in that regard I guess I had a 'behind-the-scenes' head start."
"But I have to say, reality television and normal television are completely different. When we said we were creating an instant restaurant, that's what we were doing. None of it's fake -- not really. I mean if we said we were waiting for someone to bring out their main course for five hours, we were actually sitting there for five hours waiting for someone's main course to come out."
Pollard and MKR teammate Camilla Counsel.
Pollard says the most unnatural part of the series is learning to have to constantly narrate as you go along.
"It's not scripted like people say -- it's reality. Obviously you have producers that are there to help guide the way if you're feeling unsure. But it's like, you need to be talking about how you feel while you're creaming sugar and butter -- you can't just stand there and do it like you would at home, not talking about it," Pollard said.
"You have to be constantly active and talking about what you're doing and taking the audience on a step-by-step journey of what's happening. You go in to a kitchen with ten cameras on you and you have to start talking -- it's the weirdest thing to get used to."
Another strange thing is -- understandably -- seeing yourself on television for the first time and finding out how you would be portrayed. This is particularly true of Pollard and her best friend and MKR partner Camilla Counsel, who Channel Seven wasted no time in setting up as the hoity-toity socialites most likely to play the series villains.
"When I first saws the promo I laughed, I thought it was funny," Pollard said. "And then I saw some more of the same promo and I wasn't laughing anymore."
"In real life, people would say to me, 'you need to stop doing those looks and stop staring like that and I didn't understand what they were talking about. It's not until you see yourself on television that it makes more sense."
"But I didn't tone it down and I wasn't cruel. I think I was misunderstood in the promos, but as the series progressed, I think people understood more what I was about."
Fans got to know Pollard even better in her next reality adventure, where she teamed up with Jarryd Byrne to compete on "Dancing With The Stars".
The decision for Pollard to jump straight from one reality show to the other was a no-brainer -- she has always been open about the fact she hoped her MKR stint would lead to a career in entertainment.
Pollard with dance partner Jarryd Byrne.
"I didn't really go back to normal life [after MKR wrapped] -- it was one thing to the next," Pollard said. "Going onto MKR, I knew I didn't want to go back to my other job. I hit the ground running and worked really hard. I knew it was an opening for me and I wanted to take advantage of that and I did."
"I was working really hard and sending lots of positive vibes out into the universe when Channel 7 called me -- not long after MRK was finished -- and asked me to come on 'Dancing With The Stars', and thus everything unfolded. Honestly, I thought I was in a dream."
"In saying that it's no easy feat moving from one reality competition to the next. It's not like 'House Rules' where you know you are going to end up with a prize regardless, You are fighting really hard in these things."
In terms of comparing the two -- Pollard would rate "Dancing With The Stars" as the tougher show, but only because of the training hours.
"Even though the filming time is nowhere near as exhausting as MKR -- I'm not even telling you the hours we filmed, it was ridiculous -- but the training was non-stop. There is absolutely no way you could work at the same time."
Pollard also now does cooking demos.
In terms of her public profile, Pollard is of the opinion that you get what you sign up for -- with the exception of internet trolls.
"Everyone I meet in the street has just been really lovely," Pollard said. "It's the keyboard warriors saying 'Ash Pollard is such a feral or such a mole.' They're not coming up to me in the street and saying that -- I don't think they would be ready to receive the wrath."
"I didn't have social media for quite some time and during MKR, which was probably a good thing. Pete Evans actually took me aside and just said, 'there are some awful people out there and I don't think you know what's going to happen, but you will be berated and talked about in horrible ways and I implore you not to look at social media."
"That did resonate with me and I took on his advice didn't look at social media for a long time. The times I did, I was astounded by what people say. I just don't understand where they get those comments from. It does hurt your feelings -- it hurt my feelings -- but on the other hand, I can't help but feel sorry for these people sitting behind their computers wasting time and talking shit."
Going forward, Pollard has a lot of exciting projects up her sleeve, and says she hopes one day to get into presenting.
For those hoping to start on their own reality television adventure -- Pollard has this advice.
"Don't go in blind. Do your research. For instance I knew it would be time consuming but I didn't know to what extent and that you really really worked to your core. There's really almost nothing left of you when you finish, but you have to be ready to get over yourself and get on with the job."
"After all, you applied for it and if you are going to complain how it pans out... It's not for the faint-hearted."