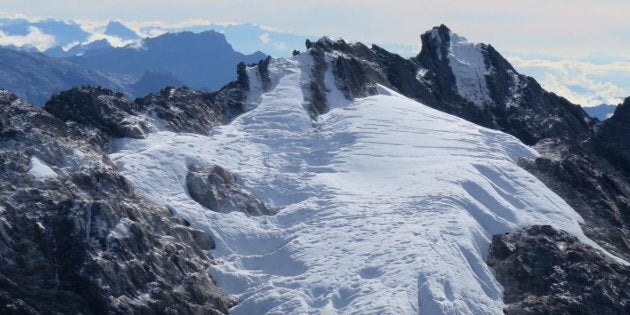 Indonesia has a glacier. In fact there are several. That might sound as implausible as an Antarctic beach with palm trees, but it's true.
The tiny little glaciers are up on Puncak Jaya, aka Carstensz Pyramid, Indonesia's highest mountain at 4884m above sea level. But these mini icefields are disappearing, and fast.
It matters because they are geographical treasures in their own right;
It matters because glaciers in tropical areas like Indonesia provide valuable runoff for farmers and nearby communities. The creeks that flow out of glaciers are perennial, which means they always flow. Until the glacier goes;
And it matters because these are visible symbols of the effects of climate change.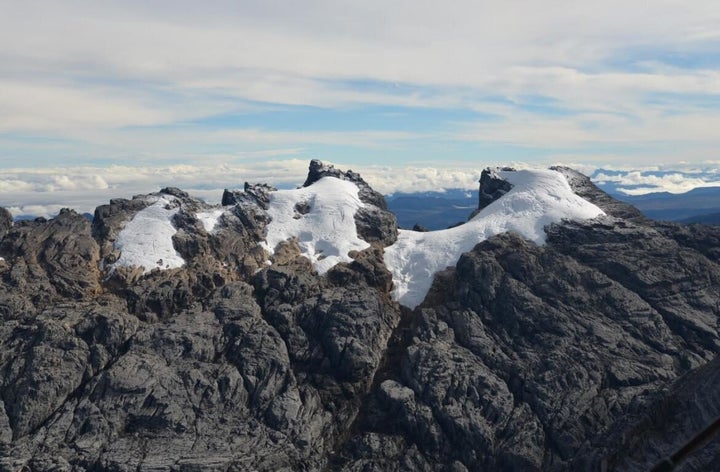 Australian adventurer and conservationist Tim Jarvis has visited the glaciers of Puncak Jaya. He heads a project called 25zero which is charting the disappearing icefields in six equatorial nations: Ecuador, Colombia, Tanzania, Uganda, Kenya and Indonesia.
Astonishingly, all of these countries have mountains mountains high enough for glaciers, but most of those glaciers will be gone within 25 years.
"Using melting glaciers at the equator is a tangible way of talking about climate change," Jarvis told HuffPost Australia in the latest episode of our climate change podcast series Breaking the Ice. (You can listen to the full episode embedded below.)
"Believe me, I've spent my time doing the Al Gore-style hockey stick style presentations, but I've always felt the best way of communicating serious issues is using a Trojan horse-like adventure.
"There are no people down in Antarctica [apart from] a few scientists, so you don't have human interest stories. At the equator, where they have 25 mountains with glaciers clinging on in the face of human-induced climate change... you've got bucket loads of interesting stories."
WAIT: HOW CAN THERE BE ICE IN THE TROPICS?

You lose about 7 degrees for every 1000 metres of altitude. That's because thinner air holds less heat;
So if a peak is 4,000 metres above sea level, its average temperature will be roughly 28 degrees lower than a nearby place at sea level;
Let's use the Indonesian example. Most days the maximum is about 32 degrees in Jakarta, which is at sea level. So up on the summit of Puncak Jaya at 4884m, you'd expect the temperature to be about 34 degrees lower, or just below zero;
We know that global temps have risen about a degree since 1880, and that the warming is accelerating;
We know from old photos and from anecdotal evidence that the glaciers on Puncak Jaya were once much bigger;
So in other words, when glaciers are formed in areas where temperatures are only barely below zero, even a rise of one degree changes everything.
"You can look at this project from two perspectives," Jarvis said of the 25zero project.
"One is the local impacts. So you look at countries like Ecuador where there are 14 mountains with glaciers, and many people rely on the periodic seasonal gradual melt. The capital Quito [population 2.67 million] gets 25 percent of its drinking water from glaciers.
"There are a lot of people living in and amongst these glaciers that rely on them for their livelihoods.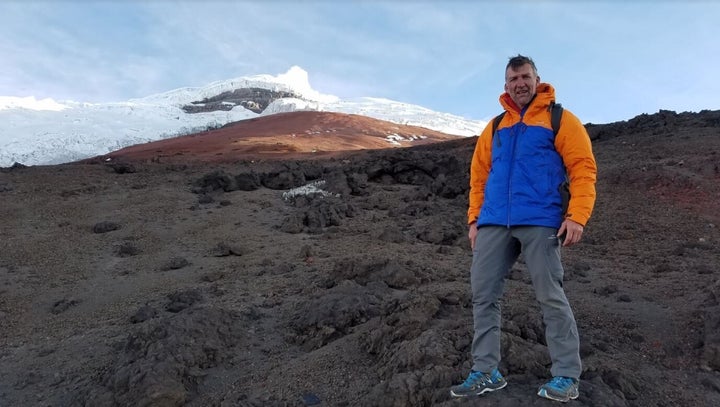 "But this project ultimately is not about about the glaciers. It's about what their melting tells us about what we're doing to the planet. The glaciers are a nice tangible visible metric showing us what we're doing to the climate."
Jarvis believes there is "just too much snow and ice" in the polar regions for most people to grasp the scale of climate change, even though, as he said, "ice is melting very fast" in those areas. But at the equator, you can see the change.
"There are very good historical records so we can do before and after contrasts. It's an ideal place to use to get the message across."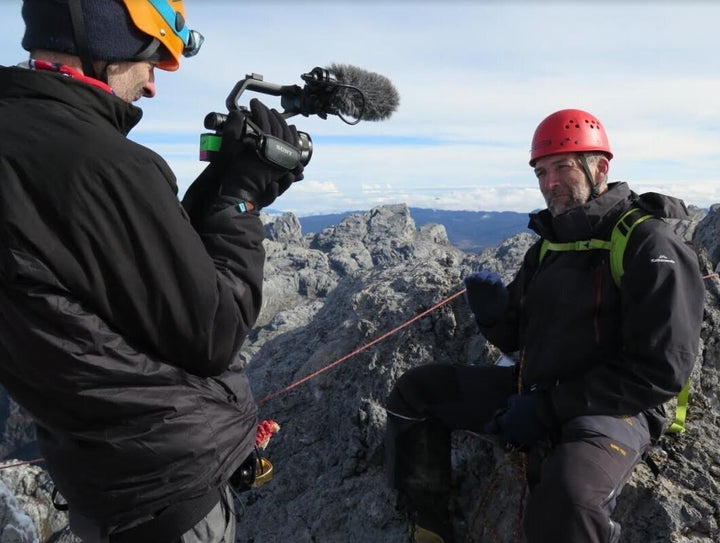 Jarvis has had quite the career as an adventurer, speaker, conservationist, you name it. Famously, he went to the South Pole with the same gear early explorers like Shackleton used. You can learn more about that hellish trip in the video below.
What differentiates Jarvis from adventurers and environmental advocate is the way he's always thinking about the communication side of things. How will people -- how will we -- understand the places and causes he's bringing to our attention?
With that in mind, we thought we'd ask him about something we can all relate to: coffee.
Coffee is grown on mountain slopes in tropical areas. It needs water. Some of the water on mountain slopes in tropical areas comes from glaciers, as we've just learned.
Tell us -- shudder -- Tim. Could coffee potentially be threatened by climate change?
"I share your fear about coffee. My world revolves around coffee as much as melting glaciers," he laughed.
He then told us about the the Ruwenzori Mountains in Uganda, which are also known as the "Mountains of the Moon".
"It's one of the most spectacular places in the world and they grow coffee there. It's a subsistence crop with a lot of small scale farmers and it is being impacted by melting glaciers in Uganda."
We're not suggesting every coffee plantation in the world is affected by this issue. But it's an example of how climate change is changing our world in large and small ways that eventually work their way into our lives.
Tim Jarvis is telling those stories and he's doing it bloody well.
GO TO KILIMANJARO WITH TIM (and help document the decline of the glaciers)!

"To support him on his next 25zero trek to Mount Kilimanjaro in June 2018, Tim and one of his key partners, Kathmandu, are giving two people the chance to join him on the expedition. Click here to find out more.

The prize includes flights, accommodation and trek costs. It's open to anyone 16 and over, and includes a two-stage interview process.