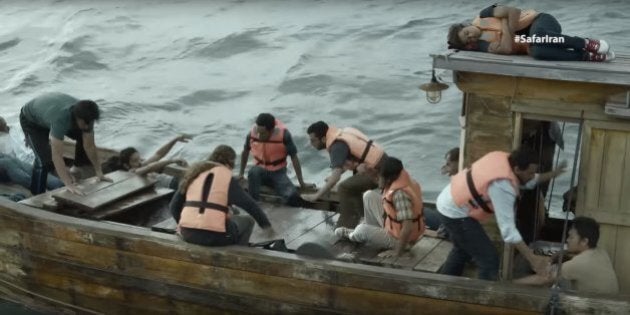 A $6 million telemovie designed to discourage asylum seekers from coming to Australia has debuted in Afghanistan.
Titled 'Journey,' the ninety-minute film follows the story of a group of Afghan asylum seekers on a mission to enter Australia by boat.
Commissioned by The Australian Department of Immigration and Border Protection as part of its anti-people smuggling campaign, the film intentionally displays the hardships faced by asylum seekers who travel to Australia by boat.
The production company behind the film is Sydney-based Put It Out There Pictures who on their website echo the purpose behind the film.
"The film aimed to educate and inform audiences in source countries about the futility of investing in people smugglers, the perils of the trip, and the hard line policies that await them if they do reach Australian waters," it says.
The Age reported that government tender documents revealed the Department of Immigration and Border protection paid Put It Out There Pictures $4.34 million to produce the movie. An additional $1.63 million was also paid to promote the film, which brought the total cost to $5.97 million.
"Independent market research in these countries has revealed misunderstandings and false rumours about Australia's policy, and a perception that Australia remains a preferred destination country for those seeking to travel illegally," they said.
Filmed across three countries, the telemovie involved cast and crew from 13 countries and has also been screened in Pakistan, Iraq and Iran.
The full movie can be viewed on YouTube but is not available in English, despite being available in a number of Middle Eastern languages such as Pashto, Urdu and Dari.