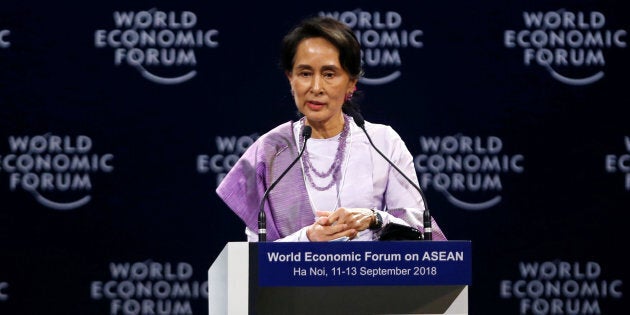 OTTAWA — Canada's Senate passed a motion Tuesday to revoke Aung San Suu Kyi's honorary Canadian citizenship.
The Myanmar civilian leader was given the honour in 2007 after support from both the House of Commons and Senate. Eleven years later, both Houses have voted to take it away, making her the first recipient to ever lose the status.
"We've only given citizenship. We've never taken it away," Ontario Independent Sen. Ratna Omidvar told reporters. "Having Aung San Suu Kyi retain her honorary citizenship is a slight on the privilege of Canadians."
Suu Kyi was awarded the Nobel Peace Prize in 1991 for her non-violent struggle for democracy and human rights but has come under fire since then for her role in human rights violations against the Rohingya people in her country.
Text of the motion, tabled by Omidvar, also included a provision asking the Senate to "recognize that these crimes against the Rohingya constitute a genocide."
Earlier on HuffPost: Trudeau pressed on Suu Kyi's honorary citizenship
In August, UN investigators blamed Suu Kyi for failing to use her "moral authority" to protect civilians, as they found that the Myanmar military was committing genocide against the minority Muslim population and other ethnic minorities.
"We are calling for the culpability to be placed on the military powers in Myanmar," Omidvar said in a Senate chamber speech Tuesday. She called the motion a "step in the right direction."
Over 723,000 Rohingya refugees have fled to Bangladesh since August 2017, according to the United Nations High Commissioner for Refugees.
"We must support Bangladesh. We must continue our diplomatic engagement and help Bangladesh and the refugees in their efforts to gain some security and some peace in their lives," she told reporters.
Despite calls for her Nobel honour to be withdrawn, the head of the Nobel Foundation rejected the notion this week. Calling Suu Kyi's actions "regrettable," Lars Heikensten told Reuters that to take away such awards would mean judges would have to reassess laureates' merits on a regular basis.
Raoul Wallenberg in 1985 - Swedish businessman and diplomat who saved Hungarian Jews from the Holocaust
Nelson Mandela in 2001 - Former South African president who fought apartheid
Tenzin Gyatso, the 14th Dalai Lama, in 2006 - Exiled Tibetan Buddhist leader
The Aga Khan in 2009 - Leader of 15 million Ismail Muslims
Malala Yousafzai in 2014 - Pakistani activist for female education, youngest Nobel Prize laureate.
There's no explicit law or order in council that provides instruction on the formal steps for revoking honorary Canadian citizenship. But a Senate official told HuffPost that Tuesday's Senate motion, combined with one passed by the House of Commons just days ago, certifies the revocation in Parliament's eyes.
Last week, the parliamentary secretary to the minister of foreign affairs said support for the motion moves Parliament to "new ground." When asked by reporters for what the next steps will be, Andrew Leslie admitted he was unsure.
"Like all unanimous motion consents in the House of Commons, it expresses the will of Parliament," he explained at the time. "Now the government machinery responds to that and a variety of details will have to be resolved by the technical experts."
It's the first time we're doing this. I think it will take us a day or two to figure out how it has to be done.Conservative Sen. Salma Ataullahjan
On Tuesday, Conservative Sen. Salma Ataullahjan echoed the lack of clarity among MPs and senators.
"It's the first time we're doing this. I think it will take us a day or two to figure out how it has to be done," she said.
Ataullahjan stressed unity between the two chambers on the motion as "the important message."