An icebreaker ship which forces its way through a thick shelf of Antarctic ice to supply remote Australian research stations is now employing aerial drones to find the easiest route on its summer stock runs.
The research and resupply ship Aurora Australis carves a path through the ice shelves -- usually around 1.23 metres thick -- on any one of five summer voyages it makes to the Casey Station, the Antarctic Australian Division's headquarters.
To make navigating the seas easier, the Australian Antarctic Division has adopted drone technology to take advantage of a birds-eye-view of the journey ahead.
"Once you reach the challenging sea ice conditions there are particular parts of the ice that are easier to get through than others and they're visibly detected from an elevated position, Matt Filipowski, Antarctic Division Future Concepts Manager, told The Huffington Post Australia.
"To be able to identify where the weaker points in the sea ice are, and then direct the ship towards them, it's a pathfinder."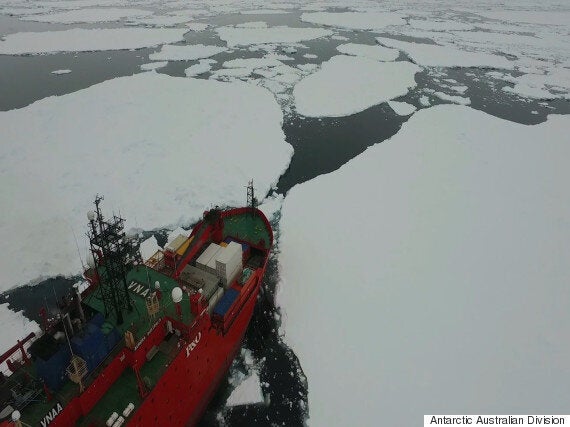 The Aurora Australis visible from the drone.
The Aurora Australis has been navigating the Antarctic seas since 1989 and this is the first time drone technology has been adopted by the Australian division.
The ship carries fuel, food and resources necessary to keep research missions going, while research is also conducted on board in laboratories.
"We've had five separate missions over the course of the nine day voyage to Casey station and each of those flight times have lasted about eight minutes," Filipowski said.
"Traditionally we've used full-sized manned helicopters to undertake this task but they're not always on board each voyage as it goes to Antarctica.
"It takes up a small amount of space on the ship, which is important to us when we have a full cargo load, a small footprint is important. It can be deployed quite rapidly in a matter of minutes, so its response time to navigation needs is very good."
For now, the project is in trial mode. The organisation will make a decision whether to roll out the program in April.