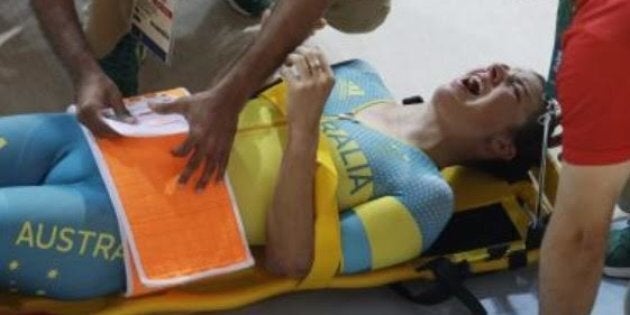 Australian cyclist Mel Hoskins has been released from hospital in Rio after her cycling team suffered a spectacular group fall - leaving them all 'okay', if a bit bruised.
Hoskins, along with Ashlee Ankudinoff, Amy Cure and Georgia Baker, all fell like dominos to the track during a training session for the team pursuit.
Hoskins was taken by stretcher from the velodrome after the world champion pursuit team tumbled.
The other cyclists suffered skin grazing, track burns and bruising.
Hoskins was lying on the track for five minutes, seemingly in agony, before she was taken to hospital as a precaution.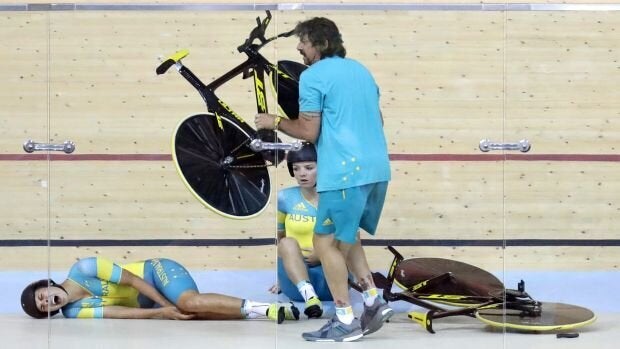 "I remember the whole thing, I had nowhere to go, straight over the handle bars and landed heavy on my side, and uncomfortably," Hoskins said.
"For those watching it would have been spectacular, we certainly weren't on a Sunday stroll, we were doing high speed race pace efforts now we are this close to competition. So when you crash at those speeds it is never nice especially when four come down, but I am counting us very lucky."
According to the fifth team member Annette Edmondson, who escaped the fall, there didn't seem much to be worried about.
Training crash update: Everyone is OK! Bruised, battered but OK
Cycling Australia's performance manager Kevin Tabotta told journalists Hoskins was mostly feeling pain in her hips.
There are high hopes for the entire Aussie cycling team, led by captain Anna Meares.