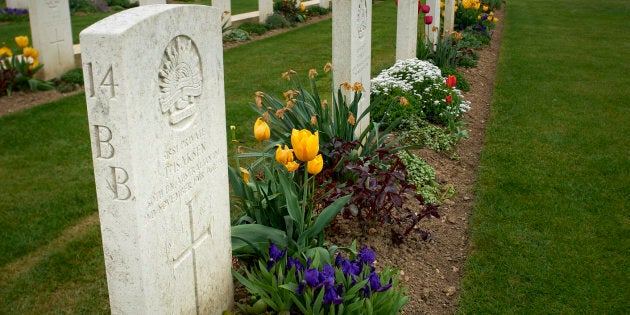 Three Australian diggers who were killed in WWI fighting around the French village of Pozieres 100 years ago have finally been buried with full military honours.
The remains of the three diggers were found in farmland on the old western front in recent years. Their identities remain unknown.
A century after the landmark WWI battle, a military funeral at a Commonwealth cemetery was held in the area on Saturday, with Veterans' Affairs Minister Dan Tehan paying tribute to the soldiers.
"They did not consider themselves heroes but their quality, conduct and actions belie this. They left their homes, they left their families, friends and loved ones, they left their futures," he's quoted by the ABC as saying.
"They stepped forward to serve, to volunteer. It is a legacy today that we still treasure. The willingness to put one's self forward at a time of need, a resolve to offer one's self freely no matter what the cost to do the job required.
The three dead soldiers have been laid to rest alongside 720 other troops buried at the cemetery, according to the ABC.
The World War I battle of Pozieres, close to the village in the Somme valley, is of the deadliest encounters in Australia's military history.
In 1916, in less than seven weeks in the fighting at Pozières and Mouquet Farm, three Australian divisions suffered 23,000 casualties -- comparable to the loss of life at Gallipoli in 1915.