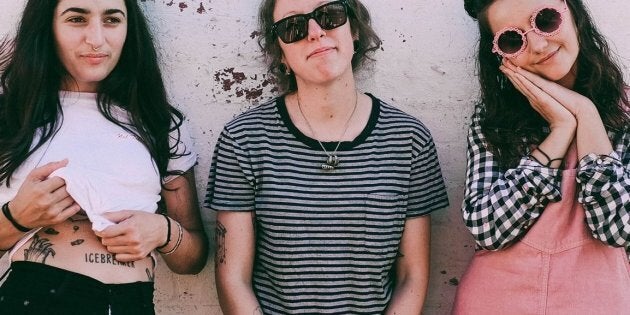 Australian musicians and industry identities are coming out in support of Melbourne band Camp Cope, who reignited the debate over gender representation on festival lineups after calling out Falls Festival live on stage this week.
As reported, Camp Cope -- whose three members are all women -- used their performance at the Byron Bay leg of the touring Falls Festival to criticise promoters for "booking only nine women" on the lineup. Frontwoman Georgia Maq altered two lines in new single 'The Opener', singing "It's another man saying we cant fill up a tent, it's another f*cking festival booking only nine women".
The video was uploaded to the band's Instagram page with the caption "it's another festival saying we can't play a main stage", while another video of the same performance was captioned with "maybe they'll never get it (putting women higher on a bill)".
Many, including Camp Cope's own publicist, drew attention to the size of the crowd that the drew to their mid-afternoon performance, supporting the idea that the band would have been worthy of a more prominent slot on a bigger stage.
Falls Festival co-producer Jessica Ducrou said in a statement that gender balance was a "consideration" when booking lineups, but that it was "challenging". She said Falls had a "very conscious and strong agenda to book female talent" but claimed "it isn't always available to us at that headline level."
Music fans have criticised Falls' response, while musicians and respected industry figures have backed Camp Cope's stand. Former Triple J radio presenter Dom Alessio gave one of the strongest endorsements.
Current Triple J presenter Gen Fricker got behind the band's message:
As did Adam Briggs, of rap group A.B. Original.
Other musicians including Kira Puru, Urthboy and Holly Throsby also got onboard.
Few acts on the Falls lineup have so far backed Camp Cope's message, however. Tasmanian punk band Luca Brasi got on board:
As did Alice Ivy, whose risk in criticising the festival she had been booked to play on was even greater, because her record label Dew Process is run by the same people who organise Falls.
While DJ Nina Las Vegas, also lent support to the band's message about needing more women in prominent playing slots:
But the band are still hoping other acts on the lineup will speak up as well:
Camp Cope are still booked to play the final leg of Falls Festival, in Fremantle, this weekend.