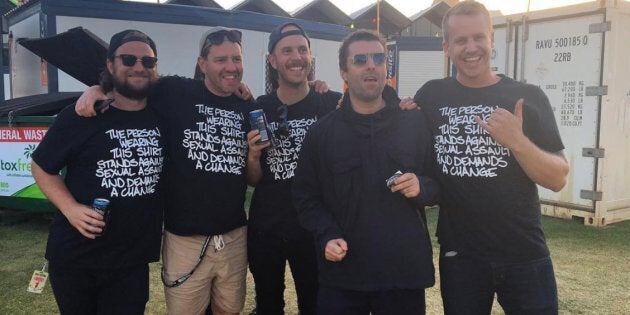 Some of Australia's most popular young musicians made a united stand against sexual assault in the music industry over the weekend, donning black t-shirts as they played Falls Festival in Fremantle.
Artists including Thundamentals, DZ Deathrays, Alex Lahey, Ecca Vandal, Luca Brasi and Bad Dreems took to the stage wearing shirts bearing the large message 'THE PERSON WEARING THIS SHIRT STANDS AGAINST SEXUAL ASSAULT AND DEMANDS A CHANGE'. The initiative was spearheaded by Melbourne band Camp Cope, who also played on the festival wearing the shirts, as part of their 'It Takes One' initiative promoting safety and fighting sexual abuse in the music industry.
Camp Cope's on-stage declaration, and later social media posts from band members, was followed by the band calling on male performers on the lineup to wear the new shirts they had designed. A number took up the offer.
Camp Cope bass player Kelly-Dawn Hellmrich wrote in an Instagram post on Monday that the band appreciated the support from fellow musicians.
"My heart grew two sizes bigger yesterday from all the Falls Festival artists who listened, believed in & took action to support creating safer spaces & inclusivity for people in & outside of festivals," she wrote.
"I am a young woman who has always loved music more than anything but who was terrified to go to festivals my whole life in fear of my safety. I refuse to allow that to happen to the generations that follow us. Especially at events we contribute to."
"Festival artists, bookers, runners & staff are a group of people with opportunity and a platform to reach people who need to listen. Demand the change."
On-stage at the Fremantle performance, Maq addressed the fallout from the Byron Bay performance, saying "we got in trouble, but that's OK, who cares."
"It's not about filling a quota, it's not about all that fucking rubbish, the diversity bandwagon," Maq said.
"It's about the type of world we want to see in music. We want an equal and inclusive, diverse music community, because that's what it is.
"It's not represented properly on festival line-ups or in big shows, it's bullshit and we've had enough of it."
"I feel like we had every right to call out Falls Festival... if you book, to play your festival, an outspoken feminist band, you're going to get an outspoken feminist band".