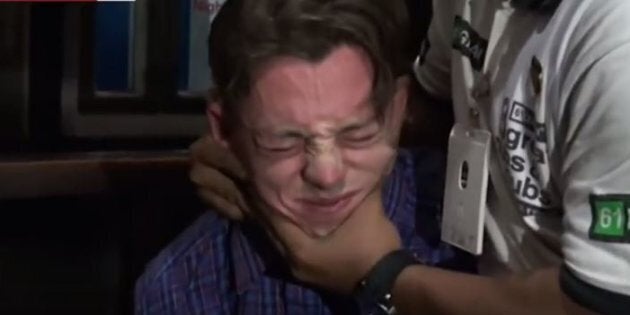 Perth teenager Jamie Murphy, who was allegedly caught in a Bali nightclub with white powder, is set to be released from jail after testing came back negative.
On Wednesday night (AEST), Bali police chief Sugeng Priyanto told News Corporation the substance testing returned negative results, with only a mixture of caffeine and paracetamol in the powder. Kuta police have been instructed to release Murphy.
"As it is not drugs, automatically he has to be freed as soon as possible," Priyanto said.
"The laboratory tests are negative. It is not drugs.
"As it is not drugs it means there is no violation of the law. So he should be released."
Priyanto also told The ABC no drugs were detected in Murphy's blood or urine.
Police arrested Jamie Murphy, 18, on Monday in the notorious Kuta nightclub precinct after officers searched the young man and allegedly discovered a small amount of powder in a bumbag. Bali police are said to have believed that the substance was cocaine.
Dramatic arrest footage aired on the Nine Network on Tuesday showed security detaining Murphy and the Aussie protesting his innocence.
"I don't do this s--- ... I swear to God, I swear to God," Murphy says as he is grabbed.
The teenager from Perth then immediately protested his innocence.
"What are you doing, it's not mine," he told security in the alarming vision.
Foreign Minister Julie Bishop said the government was providing consular support to the family and officials visited Murphy on Wednesday.
"I hope that this circumstance can be resolved favourably and very quickly. But it is a timely reminder that, when we leave Australia and go to another country, we are subject to the laws and the processes of that country," Bishop told The Project.
"Particularly for those who are going overseas for schoolies week, I do remind them that it's not Australian laws and customs that apply, but the laws and customs and processes of the country you're visiting."
The teen's family arrived in Bali on Wednesday after Murphy spent his first night behind bars at Kuta police station.
Murphy was in Bali for schoolies with a group of mates and has been described as a talented young athlete and "wonderful young man".
Indonesia is notoriously tough on drugs and convictions for drugs possession in Bali commonly result in jail terms of over one year. It was suggested Murphy could have faced up to 12 years in prison and a $900,000 fine.