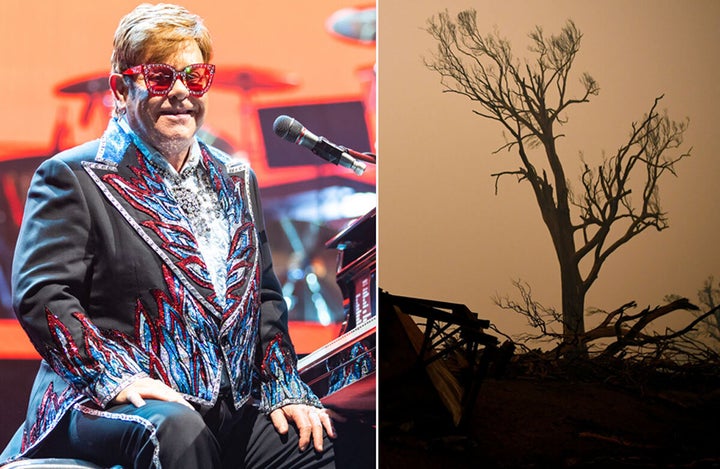 Elton John has donated $1 million to Australia's "biblical scale" bushfire crisis.
The singer, who has toured Australia since the 1970s, closed his concert at Sydney Superdome on Tuesday with an emotional speech honouring Australian firefighters and those who have lost everything.
"There are people out there who have lost their lives trying to save homes. There are people who have lost their lives and their homes," he while sitting at his piano on stage.
"And lastly there's the plight of the animals. A loss of their habitat that frankly is on a biblical scale, and heart-breaking. Therefore, tonight I will be pledging one million dollars to support the bushfire relief fund."
"Breaks my heart," he said on stage before breaking into his hit Your Song.
"This is my bit towards it, and I love Australia so much. To those who have lost their homes, God bless, I hope that your life will be repaired very, very soon."
It's a pledge that matches Australian actor Chris Hemsworth's epic $1 million donation on Tuesday.
Taking to Instagram, the 36-year-old who is based in New South Wales coastal town Byron Bay, announced his contribution and asked fans to "dig deep" to support firefighting services and wildlife shelters.
"Like you, I want to support the fight against the bushfires here in Australia. My family and I are contributing a million dollars," he wrote next to the candid clip.
Other celebrities who have donated include billionaire James Packer who gave $5 million. Pink, Nicole Kidman and Kylie Minogue have pledged $500k each while comedian Celeste Barber has helped raise over $40 million through her viral Facebook fundraising effort.