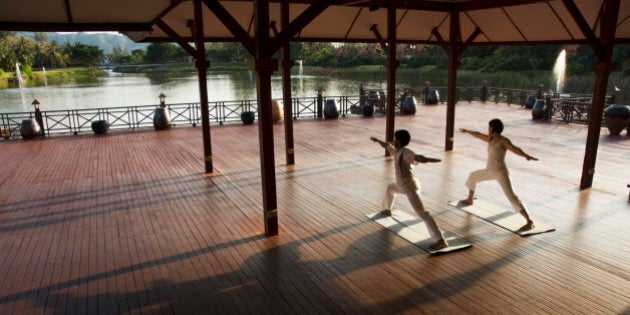 Australians are checking into Thai rehab clinics in record numbers as Australian centres are crushed by demand stemming from ice addiction.
Drug and Alcohol Rehab Asia (DARA) released a report today showing the proportion of Australian clients at two private centres doubled in five years from 14.5 percent of total clients in 2010 to 31 percent in 2015.
Over that same five-year period, The Salvation Army Recovery Services operations manager Gerard Byrne said the number of Australians presenting with amphetamine addiction increased 42 percent.
"The nature of the drug ice means people will seek treatment and the spike in people presenting with amphetamine addiction is obviously a huge crush on treatment places," Byrne told HuffPost Australia.
"It's people being added to the queue, and those who can pay to go overseas will go but those who cannot need to do what they can to get into Australian drug treatment centres."
DARA clinical psychologist Phil Townshend said Australian clients were mostly from Perth or Melbourne, seeking help for alcohol and methamphetamine addictions, and aged in their late 30s to early 40s.
"We've witnessed a groundswell in Aussie visitors to DARA over the past five years, most of whom presented with an alcohol addiction, followed by a methamphetamine addiction, although many used a mix of multiple substances, with alcohol almost always in the picture.
"We treated more Australian men than women during the same period, and in fact, witnessed a 16 percent increase in the number of men visiting our facility."
Townshend said another reason to explain the spike in Australian clients was the price.
"This surge in clientele may be largely attributed to the long waiting lists of Australian public rehabilitation clinics, the high cost of private clinics, and their location in an environment with which the addicted individual is familiar, and therefore, easily able to feed their addiction," Townshend said.
A four week program at DARA starts at $7000AUD compared to $15,000AUD for a similar service however some Australian services are free, albeit with conditions and waiting lists.
National Drug and Alcohol Research Centre deputy director Alison Ritter said demand for places in Australian clinics was nothing new.
Research we've done indicated Australia needs to almost double the number of treatment places available to meet demand," Ritter told HuffPost Australia.
"There's no doubt Australian facilities are hard to get into but I think the popularity, if you will, of these Thai centres comes down to the fact that they're marketed in a very sophisticated manner.
"I think there's a presumption that they are private clinics and will offer a more sophisticated experience, but there's no evidence to support that.
"Australian centres have really very good outcomes, we just need funding to be able to offer more places."