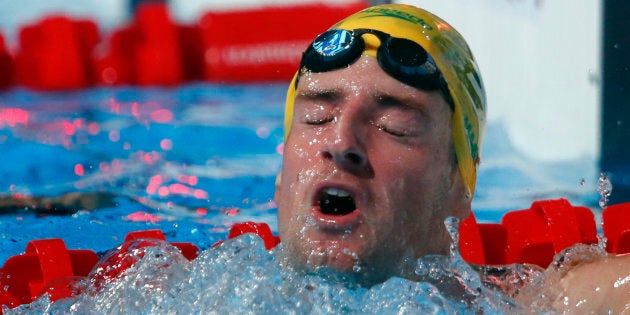 Australia has finished third in the men's 4x100m freestyle swimming relay at the Rio Olympics, and it's hard to know whether to feel disappointed or satisfied.
The result is better than London, where we were the fastest qualifiers yet missed the podium entirely. But it's also below our expectations. Here, we qualified third fastest and the expectations were of much, much more.
But we stayed true to form, and in fact would have finished a lot lower in the pecking order if not for an incredible finishing burst by Cameron McEvoy.
The USA won the event with France second. James Roberts led the race off for Australia but finished eighth in what can only be called a disappointing split of 48.88. Kyle Chalmers did a huge job turning things around with his swim of 47.38, and James Magnussen kept the good work going with a 48.11.
But Australia was always out of winning contention in a race they were widely tipped to win. When McEvoy hit the water he was in fourth spot and a long way off the lead. He swam a sizzling 47 seconds flat, but there's only so much he could do.
The team put up a united front after the race despite what surely must have been huge disappointment.
"It's very exciting to get a bronze medal with some of my great mates, we've really come together as a team and it was awesome," Kyle Chalmers said.
The other three swimmers echoed those sentiments. Yet it must have been a bittersweet moment for James Magnussen, who four years ago loomed as the swimmer of a generation, but whose quest for an Olympic gold medal may now be over.
The Huffington Post Australia asked Magnussen whether he felt a little like the champion football player who never manages to win a grand final in his career.
"I don't know. I think as a child I never even thought I'd be a professional swimmer let alone swim at the Olympics, let alone have three Olympics medals," he replied.
"I'm just happy to be here, and if I never get an Olympic gold medal, then I can live with myself knowing that I've given everything I could in my swimming career. But the old shoulders have still got a couple of years in them yet, so we'll see how they go."
Magnussen then showed a couple of nice touches of humour, when talking about the relaxed preparation for these Olympics as compared to London four years ago.
"There was no weapons of mass anything and no missiles or any of the other paraphernalia," the man formerly nicknamed "The Missile" joked.
When asked who he was supporting in the 100m individual event, for which he failed to qualify, Magnussen said:
"I'm team Cam all the way, I'll be in the stands with my pom pom and mini skirt this time around."
McEvoy had a cautious word for those who think he's over the line in the individual event.
"I've always expected the 100m freestyle was going to be a race," he said. "In my mind I was never going in expecting to win, I guess that relay shows my prediction was correct to an extent. But relays are very different to individuals races."
In a pointer to the thrilling 100m freestyle individual event later in this meet, US anchor swimmer Nathan Adrian finished in 46.97 seconds, His battle with McEvoy should be fascinating.
Meanwhile Michael Phelps won his 19th career Olympic gold medal as part of this remarkable U.S. relay team, which is more than anyone in any sport, ever.