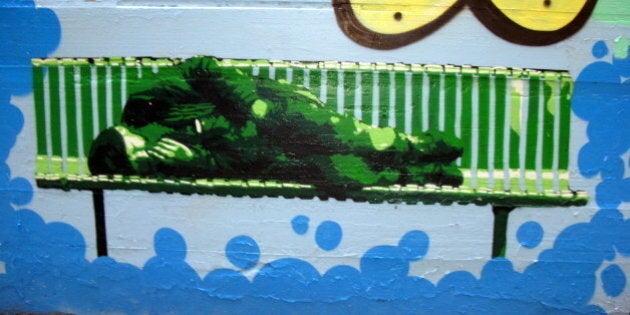 A staggering one in eight Australians have been homeless at some point in their lives, with peak bodies calling new research into the national issue a "big wake up call" for governments.
'Homelessness' goes far beyond the conventional ideas of a homeless person "sleeping rough" outdoors. Mission Australia estimates only seven per cent of the homeless population fits into this category. Homelessness Australia defines homelessness as "when a person does not have suitable accommodation alternatives ... if their current living arrangement is in a dwelling that is inadequate; or has no tenure, or if their initial tenure is short and not extendable; or does not allow them to have control of, and access to space for social relations."
RMIT's Emeritus Professor Chris Chamberlain and Dr Guy Johnson, from the Centre for Applied Social Research, also found 1.4 million Australians had "slept rough" in parks, outdoors or in improvised dwellings in their lives.
This number is 14 times higher than what Chamberlain said are the generally accepted estimates of Australians sleeping rough.
"Our survey contradicts the popular conclusion that rough sleeping is rare in modern Australia," he said.
"We found about 900,000 men and 500,000 women – or 7.8 per cent of the population – have slept rough in parks or improvised dwellings, in their lifetime.
"The statistics are startling because they are so unexpectedly high. Nobody had any idea that the numbers were this big."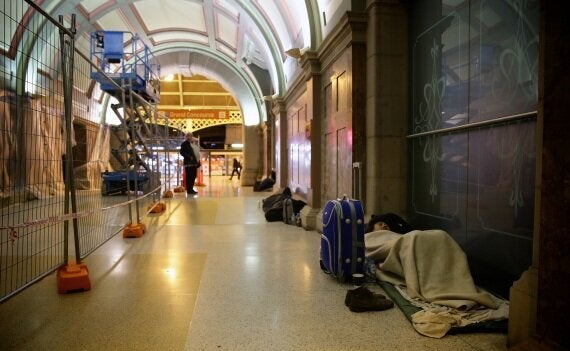 Homeless people sleeping at Sydney's Central train station (Fairfax Media/Wolter Peeters)
The last national census in 2011 found just 6800 people sleeping rough, but Chamberlain said this method of data collection was flawed.
"The Census is carried out in August when it is bitterly cold and Census collectors are not going to find people sleeping rough at that time of year,'' Chamberlain said.
"Most people are hiding away for warmth and, of course, hiding away for safety."
Glenda Stevens, CEO of Homelessness Australia, called for greater federal funding and attention on homelessness.
"This research should be a big wakeup call to the government. Without taking real steps to address the chronic lack of affordable housing and considering the impact of funding that does not properly resource services this number is only going to rise," she said.
"The next census will be in 2016 and the census team needs to use this information to ensure everyone is counted. Homelessness Australia will use this research to work with government and services to ensure that gaps are met."
The research came just a day after Mission Australia called on Malcolm Turnbull and the federal government to commit to new targets with a view to halving homelessness by 2025. The organisation said 18,000 children under the age of 12 are homeless on any given night.
"We know what works to fix homelessness. Prevent people in high risk groups from becoming homeless, fund evidence-based programs for people who are already homeless and ensure enough homes for people on low incomes," Mission Australia CEO Catherine Yeomans said at an event in Sydney on Tuesday.
"We can reach these targets because we know what needs to be done. But it requires strong leadership, a commitment from all governments to increase funding and to guarantee it over the next five years."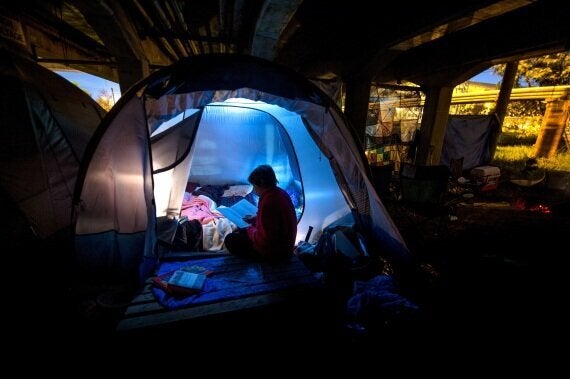 Homeless are often forced to "sleep rough," outdoors or in tents (Fairfax Media/Justin McManus)
Yeomans said she will travel the country in coming months, meeting with state and federal bodies to seek support for Mission Australia's recently-launched Action Plan to Reduce Homelessness.
The 10-step plan aims to halve youth homelessness by 2020 and total homelessness by 2025, as well as halving the number of low-income people in rental stress. It includes a call for domestic violence services to be "drastically expanded," building an extra 200,000 new social homes, upping income and rental assistance to struggling families, better support for people leaving state care such as hospitals or prisons, a new focus on early intervention models for at-risk youth and more support for related services such as drug and alcohol counselling, financial counselling, mental health agencies and school programs.
"We know that helping someone keep their home is much better than responding to their increased needs once they are homeless… So we need to help people before they reach crisis point," Yeomans said.
"When people do become homeless, the right services need to be in place to help them into housing, and address the causes of their homelessness."
Mission Australia recently launched their #NoticeUs social media campaign, publishing a series of videos on a family who agreed to live homeless and sleep rough for a week.
"Living in their car, on $60 per day, the family went through what thousands of Australian families experience every night," Mission Australia said.