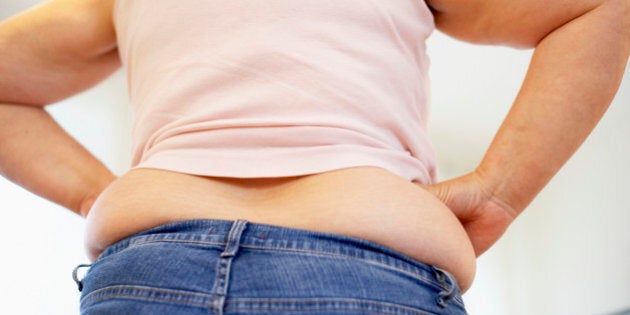 Australia, we are overweight. Alarmingly so. Worse, we are getting fatter.
In 2014-2015, a staggering 63.4 percent of Australian adults were overweight or obese -- well over half of our nation's population. That's almost two in three adults. This is an increase from 1995, which was 56.3 percent, illustrating that the problem is getting worse.
The medical world generally defines 'overweight' as a condition in which a person's weight is 10 to 20 percent higher than 'normal', as defined by a body mass index (BMI) of 25 to 30.
'Obesity' is defined as a condition in which a person's weight is 20 percent or more above 'normal' weight, or has a BMI of 30 or more.
'Morbid obesity' refers to an individual who is either 50 to 100 percent over 'normal' weight, or sufficiently overweight to the point that their condition interferes with health or normal functioning.
The problem goes far beyond aesthetics. As described by the Australian Institute of Health and Welfare, excess weight-- especially obesity -- is a major risk factor for cardiovascular disease, Type 2 diabetes, some musculoskeletal conditions and some cancers. As the level of excess weight increases, so does the risk of developing these conditions. In addition, being overweight can hamper the ability to control or manage chronic disorders.
Twenty-two percent of Aussies in 2012 had cardiovascular disease, which is the number one cause of death and sickness in our country, while 280 Australians develop diabetes every single day. That's one person every five minutes.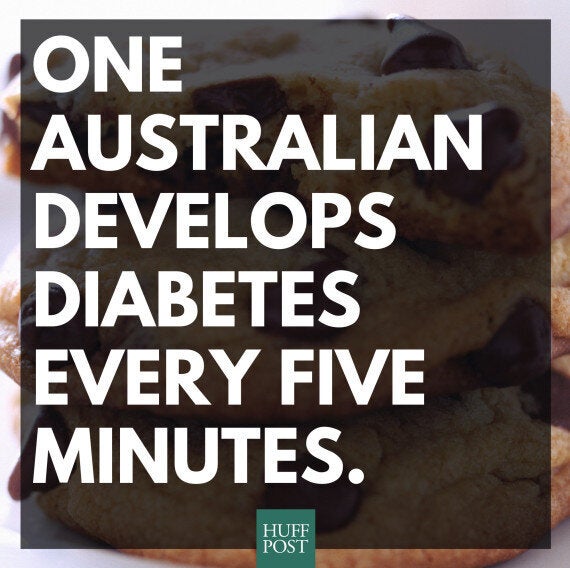 Men have slightly more reason for concern, with 70.8 percent of adult males being overweight or obese compared with 56.3 percent of women.
Evidence shows that we're passing on our bad habits to our kids, too. Around one in four (27.4 percent) of children aged 5-17 were overweight or obese.
When it comes to our diets, nearly one in two (49.8 percent) of adults met the Australian Dietary Guidelines for the recommended serves of fruit, however only seven percent met the guidelines for serves of vegetables. That's a whopping 93 percent of Aussies who aren't getting enough veggies everyday.
The lack of vegetables in our diet could be attributed, in part, to our penchant for cheap and convenient food. Aussies make a staggering 51.5 million visits to fast food outlets every month, with 40 percent of diners loyal to one to two brands.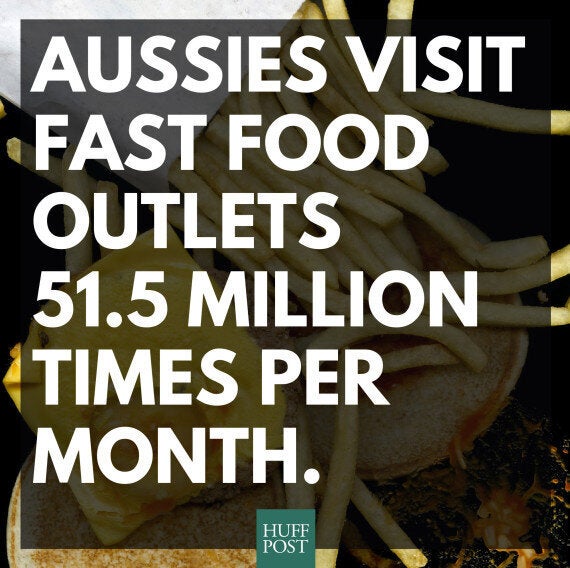 Not surprisingly, McDonald's wins in the popularity stakes with 42 percent of those who consume fast food visiting Maccas in the past four weeks. Subway was next, followed by KFC, Hungry Jack's and Domino's Pizza.
We're fairly divided as a nation when it comes to exercising. Just over half (55.5 percent) of 18-64 year olds participated in 'sufficient physical activity' in the last week -- defined as more than 150 minutes of moderate physical activity or more than 75 minutes of vigorous physical activity, or an equivalent combination of both, including walking.
Nearly one third did not complete enough training to be classified as 'sufficient', and 14.8 percent did nothing at all.
Australia gets fatter as it gets older, too. Of men aged 45 years and over, almost four in five (79.4 percent ) were overweight or obese, while two in three women of the same age fell into the same bracket.
Interestingly, socioeconomic factors play a role for women, but not men. More women living in areas of most disadvantage in Australia were overweight or obese than women living in areas of least disadvantage, though for men, it made no difference.
While the emotional and physical cost to an individual is fairly easy to visualise, the fiscal cost to our country is harder to put in perspective. In the medical sector alone, diabetes costs Australia an estimated $14.6 billion each year, while cardiovascular disease is our country's most costly disease.
We are, quite literally, buckling under the weight of the biggest health and medical issue we have ever faced.
This is the first in a special series by The Huffington Post Australia about the nation's obesity crisis.
If you have an idea (a big one, or a small one -- even a nutty one) email us at HuffPost Australia.