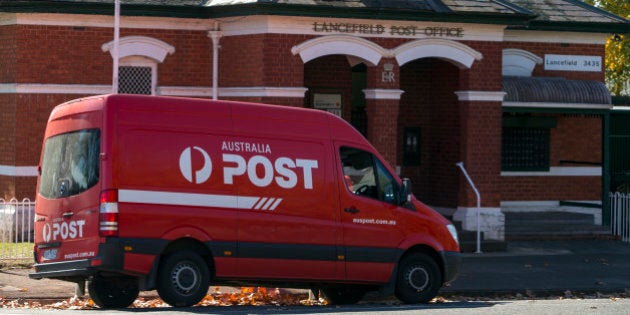 An independent report warns Australia's postal system is heading towards Canada's new model -- where daily household mail delivery has been eradicated and people are forced to use community mail centres.
The McKell Institute report claims recent reforms to Australia Post, including an increase in the price of stamps and slower delivery times, do not go far enough to breathe new life into the postal service.
The report comes in the wake of figures pointing to losses of $1.5 billion in the last five years.
The report has prompted a strong response from Communications, Electrical and Plumbing Union (CEPU) NSW Secretary Jim Metcher, who claims in a statement the report highlights the inadequacies of the Federal Government's plan for post.
"Under the Government's changes, you will be able to walk a letter to its destination faster than you'll be able to post it," said Mr Metcher.
"As the McKell report highlights, charging a higher price for a lower quality service is never going to put Australia Post on a sustainable footing -- instead it will drive customers away and kill our national postal service."
But Australia Post has shot down the report, saying it is false and misleading; denying Australia will ever follow Canada's lead and force people to walk to mail centres.
Australia Post claims Federal Government reforms guarantee existing household delivery will continue across the country. This means posties will keep on providing the same service as always, and that the nation's 4,000 stores will remain open.
Australia Post spokesman Mark Grady told the Huffington Post Australia they are not considering any such changes and remain committed to ensuring Australian posties still carry out day-to-day deliveries.
"We've ruled out the idea of a community mail centre. That simply won't happen," said Grady.
"Yet there are aspects of the McKell report that we welcome, such as Australia Post's critical role in service work, such as passport processing. Those services are important to us too."
Australians are sending one billion fewer letters a year than they did in 2008. Put simply, we are now sending the same number of letters a year as we were in 1995, despite a population growth of more than 6 million since then.
A spokesman from Federal Communications Minister Malcolm Turnbull's office told Huffington Post Australia the Canadian case study cited in the McKell report doesn't reflect the actions being taken by Australia Post to reform its loss making letters business.
"Reform will strengthen the financial sustainability of LPOs through an extra $75 million a year in new payments," said the spokesman.
As for the McKell report recommendation that the Federal Government inject additional funds into Post's main street outlets – giving them complete makeovers …. Turnbull's spokesman pointed out: "The sad reality is that more people send emails these days."