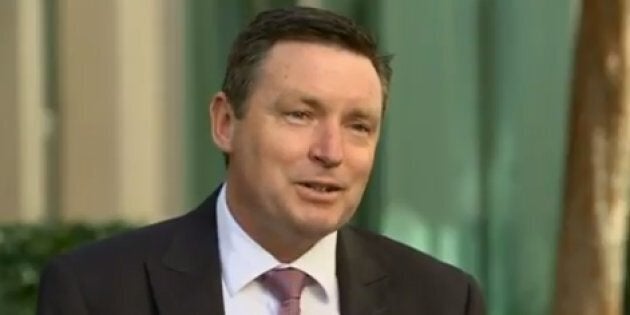 The managing director of the Australian Christian Lobby (ACL) Lyle Shelton has claimed he believes vile homophobic posters that were reportedly seen in Melbourne's CBD are part of a conspiracy by marriage equality supporters in order to make a point about the validity of the postal plebiscite process.
In an interview with 'The Project' on Monday night, presenter Waleed Aly questioned Shelton on whether it was naive to believe a "civilised debate" could be had on marriage equality, given the attention the posters have received.
In response, the ACL leader said the controversial image "obviously doesn't come from us," and said the posters may have been planted on purpose by same-sex marriage advocates looking to critique the idea of a "respectful debate".
The poster in question is headed by the screaming headline "STOP THE FAGS" and pictures a young child cowering before two rainbow-coloured belts, seemingly about to be punished.
"I don't know who put that poster up. I can't imagine anyone from our side would do that. It may have even come from people wanting to prove the sort of point you're making [Waleed]," he said.
"I know the people on our side of the debate and we're not like that and nor would we be like that.
"You won't see the leaders of our side doing that sort of thing. You will see the leaders of the other side encouraging violence against our side. Death threats against venues where we're holding meetings."
Shelton also said the treatment experienced by some of the ACL's staff recently is further proof of, what he describes as, the "uncivil behaviour" of marriage equality groups.
"We didn't expect to see a mother who was trying to talk about the challenges of Safe Schools and what her children are being taught through radical LBGT education being drowned out at a public event in Canberra a week ago," he said.
"We didn't expect to see our office egged and people saying on Facebook, urging people to send noxious substances to our office.
"I think this is uncivil behaviour and we want to have a discussion with our fellow Australians about the fact that this is a referendum on freedom of speech, freedom of religion and what your children will be taught in terms of radical sex education in schools."
The claims about child abuse, depression and obesity in LGBTQ families come from a thoroughly rubbished study from D. Paul Sullins, which was published in an open-access journal which requires authors to pay for publication.
"This new study will be a challenge for the rainbow lobby driving the push for redefining marriage in Australia to brush off," an ACL statement said of the report at the time.
"While the study should be interpreted with caution and balance, the findings do cast yet further doubt on the claim that there are "no differences" in outcomes for children raised by same-sex parents compared with opposite-sex parents."
Monday night's heated exchange between Aly and Shelton also comes after Prime Minister Malcolm Turnbull shot down claims of a harmful public debate around the LGBTQ community earlier this month, saying "Australians are able and have demonstrated that they can have a respectful discussion."
Correction: An earlier version of this article incorrectly stated that Sullins' paper was not peer-reviewed before publication.