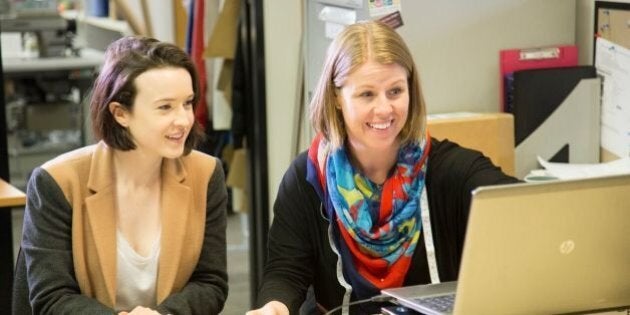 Connectivity, entrepreneurialism and emerging technologies will see 3 million jobs created in Australia by 2030, according to a new study by demographer Bernard Salt.
The study, commissioned by the NBN and released on Sunday, paints a picture of a future where we work in 'silicon cities or beaches', liberated from the daily commute or office cubicle.
"Australians are on the dawn of a disruptive 'Uber-work' era," said Salt.
"Super connectivity… will deliver a greater balance between work and lifestyle pursuits as we define how, when and where we work".
According to the study, digital disruption will transform workplaces -- but not in the way you might think. We won't be cleaning robots or programming drones, but rather performing jobs we've always done with a little more help from technology.
For Julia Van Der Somen, owner of Melbourne Fashion design house The Sample Room -- modern technology such as high speed internet has allowed her to spread her brand globally.
"It's really opened up the opportunity to speak to an international market," she told The Huffington Post Australia.
"When you're niche in a large marketplace, you can still make money."
Julia also said that growing her brand internationally had allowed her to survive fluctuations in the retail market.
"If the Australian retail market dips, we can still be busy as we are talking to people in America and China," she told HuffPost Australia.
Salt believes that these findings will support Australians to find a work life balance while pursuing their careers.
"There is a latent desire for the Australian people to pursue lifestyle… but the thing that has held them back has been access to jobs," said Salt.
However, the study also revealed demand for white-collar jobs may diminish as automation and artificial intelligence change the way health and education services are delivered.